The coronavirus pandemic is having a devastating impact on the global economy. It is "The worst crisis that international tourism has faced since records began (1950)," according to the World Tourism Organization (UNWTO).
Globally, tourist arrivals were down by 22% in the first three months of the year, collapsing by 57% in March as lockdown spread.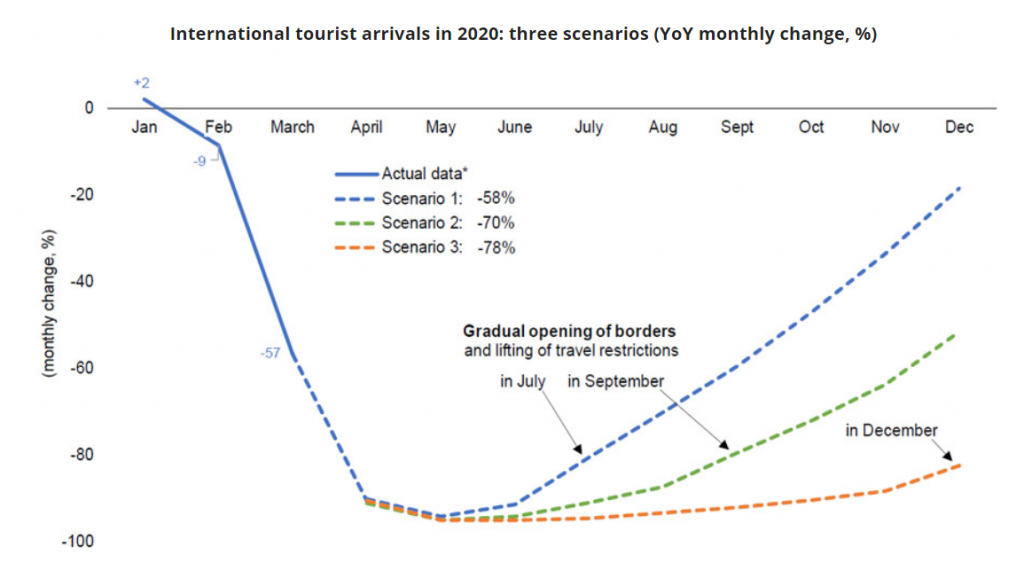 But by taking proactive steps now, you can help your travel brand to stay secure and recover faster. As travel bans and restrictions are lifted, you should focus your efforts on building awareness and confidence in your brand. When demand begins to build, you should shift your focus onto converting potential customers through your retargeting efforts.
In this blog we look at how travel and tourism brands can think about their approach to marketing to help their business recover from coronavirus.
Domestic travel is likely to recover faster than international travel, and some countries will be open for business before others. As travel restrictions are being gradually lifted, it is crucial for brands to be considering how they can reinforce traveller confidence and stimulate demand. This is not the time for hard-selling tactics, instead use it as an opportunity to connect and engage with your loyal and potential customers. Do this by delivering regular business updates to improve existing relationships and establish new ones. The tone of voice you use to articulate your messages is as equally important as the content. Acknowledge the isolation felt by people under domestic lockdown across the world, and their desire to escape and connect with people again. Humans want to engage with other humans, not robots! So be honest, warm, and empathetic in your communications.
Travel and tourism brands should take full advantage of their owned channels, including website, social media and email marketing, to share inspirational photos, videos, and uplifting people stories. By doing this, they can strengthen connections with customers and, ultimately, generate a desire to travel.
There is increasing confusion about who can travel where, and which destinations are considered "safe" and by whom. And whilst there are many tourists eager to pack their bags and escape, many tourists are left with fears and concerns around travelling, not only because of health and hygiene factors, but also for financial reasons. Brands should clearly illustrate the health and safety measures they are taking to prevent infection, as well as any financial protection to ensure customers can book with confidence. In addition, there are many other tactics you can implement now to encourage future bookings, some of these include:
Free cancellation and flexible date options
Discounts or incentives e.g. a welcome pack on arrival, free food, drinks, facilities, etc.
A travel insurance policy for disruptions caused by the virus
This information should be front and centre on your website, social media, relevant information apps for visitors and any promotional campaigns.
Brands should also use this time to re-evaluate the competitive landscape, so they are ready to take steps to gain market share, enter new markets, and offer new products or services. Travel companies can streamline their marketing technology and processes to get the right messages to the right people at the right time.
Ultimately, there are many strategies that tourism and travel brands can implement as demand for travel begins to grow. But the bottom line is that the proactive businesses with marketing strategies that are flexible and able to adapt to emerging trends, will be the most successful. Ensure you are regularly reviewing your marketing plans and adjust them accordingly. Pay close attention to your sales projections and as demand starts to go up consistently, you can begin to reduce your brand awareness efforts and focus more on converting leads. For advertising, this means bidding high on brand keywords, investing in retargeting ads, and using other tactics to convince your audience to buy now.
For more advice and practical tips on recovering post-Covid-19, please visit our dedicated page here.
If you would like some support in planning your travel business's recovery marketing and communications strategy, please drop us a line via: hello@adpr.co.uk.
Don't fall into the trap of thinking a crisis won't happen to your business. You are just one click away from giving yourself long term peace of mind with our Crisis Management Success service. We promise it will be worth it!
The Department of Commerce states that 70% of smaller companies go out of business within just one year of experiencing a crisis – we think this is enough of a reason to be prepared! Our Crisis PR 101 guide will give you the tools you need to develop a crisis plan that will protect your business when a crisis strikes. As well as the guide you'll get top tips from experts to give you more support in building a futureproof plan for your business.
Hopefully these tips have been useful for your travel brand. If you're looking for more ideas to promote your business, take a look at our blog on the ultimate guide to travel PR.