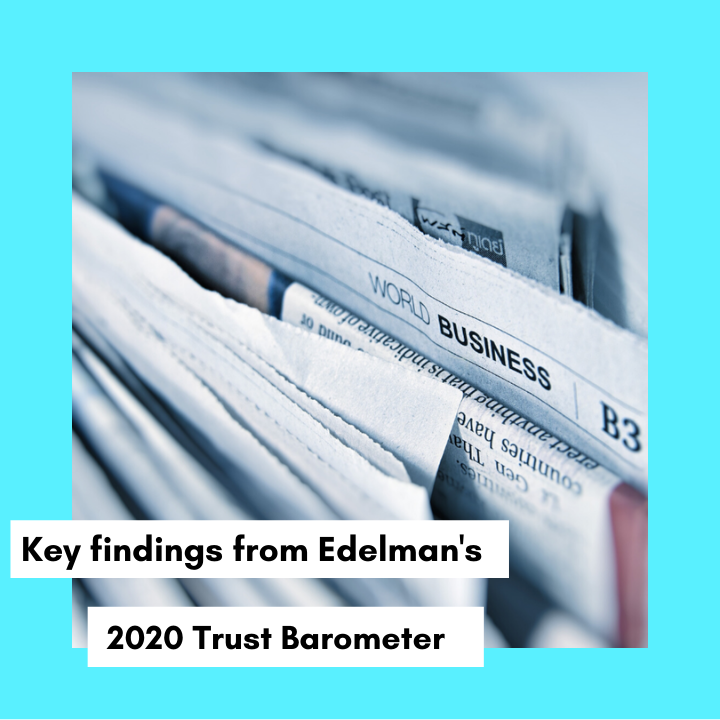 Every January, global communications firm, Edelman launches its anticipated Trust Barometer at the World Economic Forum's Annual Meeting in Davos. The Edelman Trust Barometer is the largest global survey and authority on trust in business, government, media and NGOs. The survey gathers invaluable data from more than 33,000 people in 27 countries.
Unsurprisingly, the 2020 report illustrates a progressive destruction of trust in our societal institutions. This shift is happening in the context of a 'mass-class' divide caused by recession, government corruption and fake news, which have all contributed to people losing trust in the institutions we used to rely on.  A spokesperson from Edelman says: "People's expectations of institutions have led us to evolve our model for measuring trust. Trust today is granted on two distinct attributes: competence (delivering on promises) and ethical behaviour (doing the right thing and working to improve society). It's no matter a question of what you do – it's also how you do it."
Instead of relying on institutions, trust is shifting towards more local sources, with 'my employer' emerging as the most trusted entity. This movement is set to open a huge door of opportunity for companies, providing them with an opportunity to develop their purpose, help shape future society and harness greater engagement with employees.
Encouragingly, the world's united desire for change is driving a renewed interest in fact finding, leading to a rise in the consumption and sharing of news. Trust in traditional media is at its highest historical level of 66%. This is a dramatic reversal from last year, which saw 50% of people walking away from traditional media because it was biased, chasing clicks or too upsetting to read.
The survey has also shown that trust in social media is in crisis with only 43% of respondents valuing it as a credible news source.  Here at ADPR, we always find the Edelman Trust Barometer an interesting read, so if you'd like to spend some time consuming the full report it can be found here.
In the meantime, we have broken the survey down into the key findings that piqued our interest:
75% of respondents trust their employer more than business in general and have low confidence that societal institutions will help them to navigate the world.
Nearly 6 in 10 people look to their employer as a trustworthy source of information on contentious social problems and important topics.
CEO's must lead change and are being asked to step into the vacuum left by the government. 76% of people believe that CEO's must take the lead on change rather than waiting for government.
74% of people believe that CEO's must embody the values and mission of the organisation they lead.
85% of employees would like to see employers speaking out about issues such as training, ethical use of technology, automation's impact on jobs, income inequality, diversity and inclusion.
62% of employees would like the opportunity to shape the future of society, 64% expect to be included in planning and 62% expect organisations to have a clear sense of purpose.
60% of employees worry that the pace of change in technology is happening too quickly, with 62% worrying that technology will make it impossible to know if what people are seeing or hearing is real.
The world is now divided by trust. There is a 16-point gap between the more trusting informed public and the far more sceptical mass population.
The world is united on sharing a desire for change with only 1 in 5 respondents feeling that the current system is working for them.
73% of people surveyed worry about consuming false information or fake news being used as a weapon.
Despite its increased score, media is still seen as being incompetent and unethical with 57% of people not believing the media does a good job at differentiating between fact and opinion.
Overall, women are less trusting than men. The gender pay gap has contributed to this issue along with women not seeing enough women in charge of businesses or considering themselves as highly valued as men.
Dishonest, divisive politics has contributed to the UK population becoming the second least trusting nation in the world.
Britain is at its lowest ever position in a global table of trust among the mass populations of 28 countries.
3 in 5 Britons are losing faith in democracy as an effective form of government.
If you'd like to speak to ADPR about improving your internal communication and employer engagement strategy, please contact Sophie@adpr.co.uk  or call 01460241641
For more information and tips on consumer PR, please see ADPR's Consumer PR 101
Every business has its own unique challenges and perhaps you need a bespoke product that touches on parts of two of more of our SME products. If this sounds like you, then look no further! Our Bespoke Business Blend Service is purposefully designed to create a tailored approach to work directly on getting you the success you need in multiple areas of your business.
As PR experts, we want to give you all the tools you need to find the best PR agency for your business needs. If you need PR support but aren't sure where to start, download our PR Buyer's Guide to identify what to look for and expect! We want you to make the right choice for your business' success!