Social media is one of the most impactful and cost effective ways to tell the world how brilliant your company is.
Wouldn't it be great if you were the only one who'd caught on to this? The issue is that pretty much every organisation in the world has jumped onto the social media wagon and that creates a lot of noise!
We know that many small businesses choose to manage their own social media channels, but we also know that when life gets busy it's all too easy to neglect them. If this sounds familiar you have definitely come to the right place.
When social media channels aren't managed properly and don't have any strategy behind them, they won't be doing anything much to help your business and could even be doing more harm than good.
Fortunately, we're experts at creating strategies that cut through all that noise and we're awesome at content creation too. But best of all, we know the secret to getting your audience talking, sharing and engaging with you.
Now is the time to save yourself precious time and energy by signing up to our Social Media Engagement Success service. We'll do the hard work of managing your channels leaving you free to sit back and reap the rewards.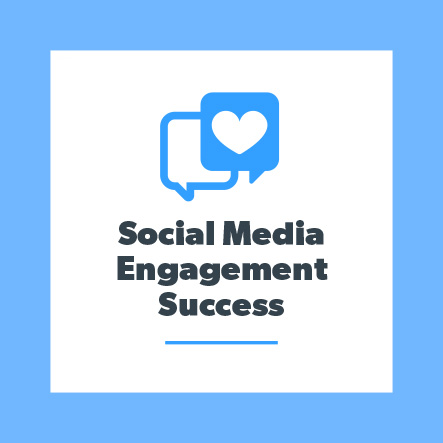 Social Media Engagement Success
Manage channels efficiently
Strategy for successful engagement
Increase sales and awareness
What happens next?
It's time to chat!
Step one

Simply click below to register your interest and we'll be in touch to discuss your requirements. Don't be afraid to have an initial discussion with us. We know your time is precious and promise not to waste it. We've never been fans of the hard sell and having a conversation with us doesn't tie you into anything. If you decide we're not for you, that's ok too. We understand and we won't pester you.

We always quote fairly and will aim to find activity to fit your budget. We also promise complete honesty and transparency. If your budget isn't quite enough to make the impact you need - we won't spend it.

We can manage as little or as much as you think you need and our service can include everything from monthly content plans and creations, graphical posts, hashtag research & videos. The possibilities with social media are endless. The trick is knowing what will deliver for your business.
Social Media Engagement Success package
Monthly
£500.00 – £1,000.00

I am grateful for the experience with Fairline/ADPR! All was organized very well, especially the transfer to hotel/airport, the hotel and of course sea trials. All people did their job well and were very attentive. Only positive emotions from the trip, sea trials and members. Both boats are really fresh and stylish - in other words - worth for serious tests! The place (Mandelieu) is fantastic too. Thank you very much and hope to meet you again!