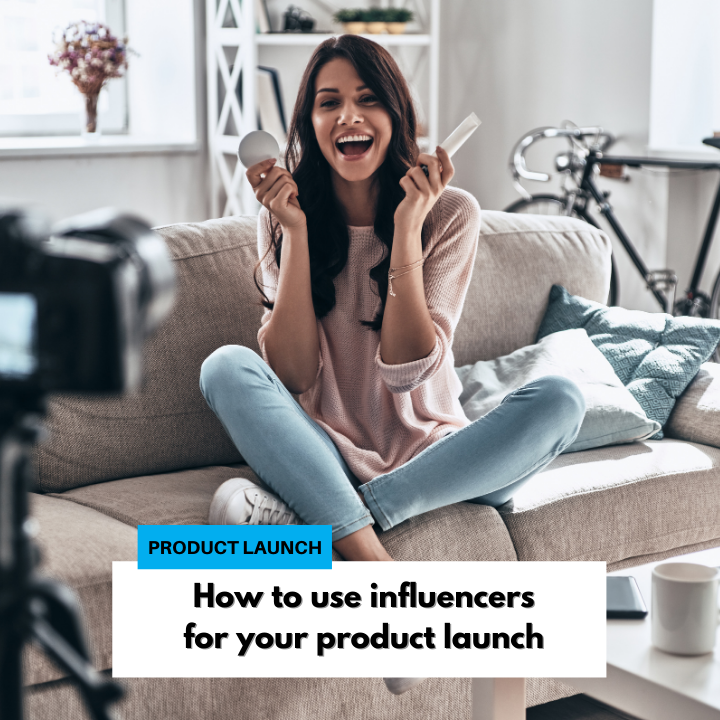 Working with influencers can be a highly beneficial way to elevate your product launch and reach new audiences. Influencers trusted by their loyal followers and are influenced by their opinion. Getting your new product in the right influencers' hands will allow your content to be seen by their following.
Statistics show the huge value of using influencers in your marketing strategy, research commissioned by HubSpot prove how worthwhile and cost effective influencers can be:
80% of marketers say influencer marketing is effective, and 89% say it works just as well (if not better) than other marketing channels
71% of marketers say the quality of customers and traffic from influencer marketing is better than other sources
48% of marketers working with influencers say audience relationship is the most valuable factor when considering which influencer to collaborate with.
The benefits of using influencers
The use of influencers is quickly becoming one of the most efficient and effective ways for businesses to reach new potential buyers. Influencers can significantly increase brand awareness and help grow sales for your products. This works due to the authentic nature the influencer has when delivering key messages, which widens the potential new audience for your products. But choosing the right influencer is key…
Choosing the right influencer for your brand and product
Before you reach out to contact any influencers, do a bit of digging into their followers' demographics, how relevant their content is to your brand and product, as well as audience engagement. Influencers generally will not promote products in which they do not believe. So look for influencers who match your brand's values, who influence your target market, and who will promote your product with genuine passion. The more influencers love your product, the easier it will be for them to promote it. This step requires a lot of time, but it is crucial to refine your influencer search to choose somebody who is a natural fit with your brand, as this will ultimately depict how well your product launch will perform.
Get in touch!
Once you have sifted through your influencer options, and are happy with your choices, now is the time to get in touch! Start communications with the influencer or their management to begin discussing your product launch proposal! At this stage, gather price rates to determine the best choice aligned with your budget. Again, it is fundamental to look at which posts the influencers' get most engagement on, making sure whatever you choose will be most cost-effective and deliver as much bang as possible for your buck!
Give the influencer creative control
We know you know your business best, and it is your responsibility to relay all of your key messaging about your new product to the influencer in a way that means they truly "get it". However, influencers do not build a large, engaged following over night; they know what their audience wants, and are experts on their followers' needs! Be led by their creative strategy, but ensure they keep their end of the bargain by including your key messaging!
Have actionable goals for your product launch
Spreading the word about your new product is great, and an influencer will help you do that quickly and effectively. However, a successful product launch with an actionable goal will create more engagement for your brand and drum up excitement. Have your aims and key performance indicators front of mind during when working with an influencer, to measure your product launches' performance. For example working with an influencer on an affiliate scheme or a bespoke discount code to enable you to measure sales attributed to the relevant influencer.
Sit back and reap the reward!
Your hard work is done! Once you have sent your new products to the influencer, confirmed costs and post contents, you are all ready for your influencer-led product launch! Make sure you are happy with the agreement, and keep an eye on your influencer's platform to re-share all posts and monitor performance.
We hope our tips on how to use influencers to optimise your product launch gave you an insightful look into the opportunities that await! If you enjoyed this blog and fancy reading something similar, why not check out our 10 step guide to launching your products online, or similarly our guide to working with influencers for your lifestyle brand.
We understand the challenges of competing in a crowded marketplace often dominated by larger organisations, but it is possible to cut through the noise when you know how. Don't allow your competition to get ahead of the game, visit our Optimised Product Launch package to leave it in our expert hands to position your new product launch in the best possible way!
Let's look at how good communication and basic planning will solve your problem and help you to convert your creation into actual sales. It's a crowded marketplace and there will always be a lot of noise to cut through to get your product noticed, but it is far from impossible to achieve. Download our Checklist for a Successful Product Launch to help you understand everything you need to know about launching your new product!