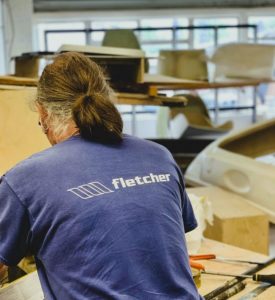 Workers are being recruited for a variety of roles in manufacturing including, Laminators, Fitters, Designers, Sales, and Business Development.
These vacancies come at an exciting time for Fletcher as the company looks to grow the business and ramp up production over the next two years.
Ed Ahmed, Chief Product Architect at Fletcher, comments, "We know the market is set to continue to grow, our aim with the latest recruitment drive is to enable us to grow the business, develop our product line and increase production line capacity. We have lots to look forward to as a business in 2023, this is a very exciting time to be joining the company. All vacancies are listed on our website, here."
The recruitment drive comes after the recent announcement of Fletcher working with ADPR, another Somerset-based business in order to fully support the growth and expansion of Fletcher for 2023. The new members of the Fletcher team will be part of an exciting era for the prestigious boat builder and will be involved in creating quality performance boats for a world-renowned brand steeped in British heritage.
For more information about Fletcher, please visit www.fletcherboats.co.uk/