Renowned British footwear brand, Chatham Marine, presents its Summer 2018 collection at METSTRADE, held at the Amsterdam RAI Exhibition and Convention Centre, from 14-16 November 2017. This year's highlights include a bespoke men's collection and a new performance cushioning partnership, offering the latest development in underfoot comfort.
Building on the success of Chatham's exclusive "Made in Britain" collection, the brand will introduce its "Made in Britain – BYU" range to the marine industry at METSTRADE. BYU is a unique collection of premium leather, men's lace up and slip on deck shoes, in an array of seasonal colourways. Made by hand in Chatham's HQ in Exeter, England, the BYU range gives customers the opportunity to truly express themselves and personalise their footwear.
Two new styles have been developed – Newton, a lace up deck shoe, and Faraday, a slip on version. These styles are available in one of ten vibrant colourways – or a bespoke option, which gives customers the unique opportunity to personalise their footwear. In five simple steps, customers can choose the individual colour of the premium leather upper, lacing, inner sock and the sole, hand finished with up to three personalised initials on the sock. The collection is completed with new-look branding and artwork, including "Express yourself" swing tags. Colour options are: Violet, Yellow, Navy, Pink, Red Brown, Coffee, Orange, Azure, Red and Green. Standard, full colour options: RRP: £120, WSP: £50. Bespoke, individual options: RRP: £150, WSP £62.50
Managing Director, Philip Marsh, comments on this unique collection, saying, "We are delighted to be able to build on our Made in Britain collection and our "BYU" range really sets us apart from other footwear brands. We're excited to give retailers, buyers and customers new options, whilst maintaining the highest quality of materials and service from Chatham – a brand they know and trust."
Alongside the "BYU" range, Chatham's Summer 2018 collection also welcomes its internationally patented performance cushioning partnership with Poron. This open-cell breathable material ensures wearers stay cool and dry throughout the shoe's life, providing the ultimate in long-lasting comfort and performance from the first to the last step. This will be internationally trademarked as 'Sole Spring Poron™'.
Gator G2 for men is one of the new styles incorporating 'Sole Spring Poron™'. Only 250 pairs of each colourway – Navy and Tan – will be available in this limited edition embossed leather deck shoe. Designed with a full moccasin construction and handstitched on the last, they come with Chatham's unique two-year manufacturer's guarantee. RRP: £125, WSP: £52.10
Philip comments, "This innovative technology has been built into every style for Chatham's new collection and offers comfort unlike any other shoe on the market. We have heavily invested in 'Sole Spring Poron™' to ensure we offer our retailers and customers the best possible footwear – both in style and trend, but also in comfort and technology."
Other key designs for men this season include: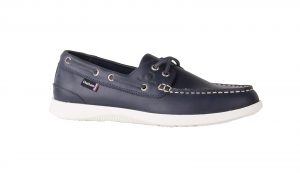 Leather, lightweight boat shoe Sumba – made from premium leather with contrasting stitch detail. Presented on Chatham's new lightweight white sole, it has a leather collar and heel panel. Available in the Mid Brown and Navy. RRP: £99, WSP: £41.25
Galley II – this premium leather boat shoe is designed with Chatham's new metal rivet branding on the heel and leather lace, presented on a non-slip rubber sole. Leather options available in Khaki/Tan, Navy/Tan, Dark Tan and Dark Brown.  RRP: £65, WSP: £27.10. Also available in suede and textile options.  Suede available in Sky Blue, Sand and Grey, RRP: £59, WSP: £24.60.  Textile available in Denim/ Navy, RRP: £55, WSP: £22.90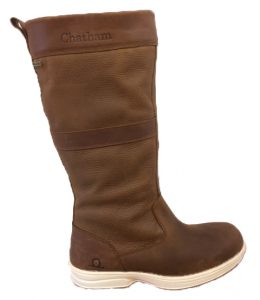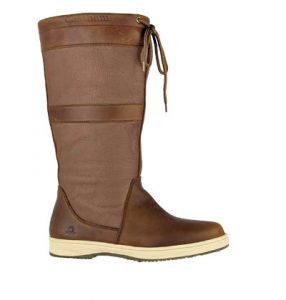 Chatham also welcomes two new sailing boots this season, Artemis for men and Serenity for women. The boots are 100% waterproof mid-calf boots, made from premium leather. Featuring a breathable Sympatex lining and Chatham's 'Sole Spring Poron™' cushioning, these boots offer maximum functionality and the ultimate in comfort. Mounted on a thick, heavy non-slip rubber sole to provide the upmost stability. The ladies boots also features stylish drawstring details, for a feminine feel. Artemis and Serenity are both available in Brown leather. RRP: £150, WSP: £62.50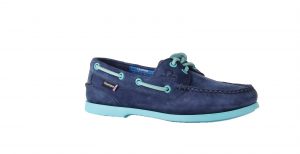 Best-selling ladies deck shoe, Pippa II G2 – returning by popular demand, Chatham's favourite deck shoe for women has had a seasonal revamp, now offered in a choice of vibrant colourways. Made from premium, washable leather and contrasting sole, lace and eyelet detail. Available in Navy/Turquoise, Stone/Neon and Tan/Pink.
RRP: £99, WSP: £41.25
Low fronted boat shoe, Arora – made from premium leather with contrasting stitch detail. This new feminine style features eyelet detailing and is adorned with twin tassels. Arora is presented on a 'Sole Spring Poron™' cushioning and non-slip rubber sole. Available in Brown, Navy, Khaki Suede. RRP: £55, WSP: £22.90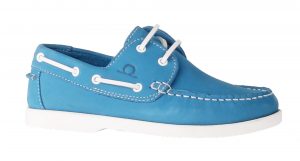 For children, Henry and Olivier return to the Summer collection, with new colour updates for the season. Both traditional leather deck shoes, Henry, a lace up boat shoe, and Oliver, a Velcro fastening alternative, are made from bold premium leather with contrasting lace, eyelet and rubber sole detail. Both styles are available in Navy and Turquoise. RRP: £45, WSP: £22.50
Philip adds, "This new collection truly reflects Chatham's premium brand history and future direction for the brand. It brings together the best quality materials and designs, with the latest seasonal trends and Chatham DNA in each and every style. We are excited to share the new collection with current and potential buyers at the METSTRADE show, and look forward to their feedback."