Taunton based insurance claims handling provider, Claims Consortium Group, announces the launch of its free community wellbeing hub: www.loveourcommunity.co.uk
Bringing together invaluable advice, support, resources and educational guides to help during the Covid-19 global pandemic; the community hub is a free tool for everyone to use. The site features handy tips and advice across a range of topics including looking after your mental and physical wellbeing, home-schooling and mindfulness. The site will also feature guest articles from local and industry experts and is being constantly added to. Just as the name suggests, this is a community resource for everyone, and Claims Consortium Group are actively encouraging people to get in touch if they would like to contribute some content. Whether it's a stand alone piece or a series – please get in touch via hello@loveourcommunity.co.uk.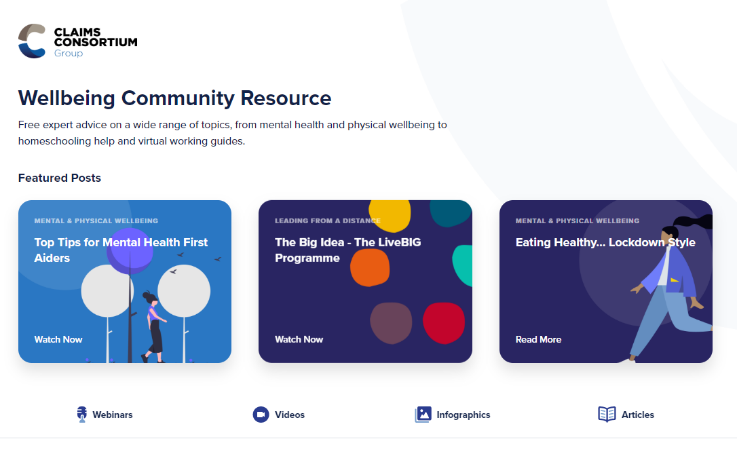 The resources were initially developed to support Claims Consortium Group's 300-strong team who are all now working from home. Since the content proved so helpful, the company wanted to make it freely available to all, and the wellbeing hub was born. Packed full of free resources provided by a range of award-winning expert contributors and curated in an easy to navigate format, the content has been developed by certified trainers and industry experts, including Mental Health First Aid England trainers.
Claims Consortium Group Founder and CEO, Jeremy Hyams, comments, "During this global pandemic, we are all focussed on looking after the wellbeing of our businesses, our customers and our people, and this is absolutely central to how we operate as a business. To support our staff, we wanted to provide as many tools as we could to help make it a little bit easier. We believe there has never been a better moment for us all to pull together and support one another, and this wellbeing resource is just one way we hope to help during this challenging time."
For more information and to check out the new resource hub, please visit: www.loveourcommunity.co.uk