The UK's first ever outlet centre, Clarks Village, has launched inspiring new creatives – highlighting the many unique and distinct features of the shopping village in the heart of Somerset.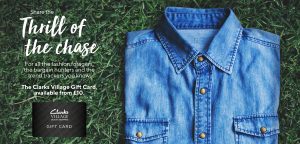 Led by Everything Different – a brand and creative agency – Clarks Village worked closely with the team to create the 'Find your way' campaign. The brief was to create an exciting and inspirational campaign, to reflect the rich heritage of Somerset, the premium and eclectic mix of brands at Clarks Village today, and to reinforce the thrill of shopping amongst big designer brands and household names in a beautiful Somerset location.
The new concept highlights the experience of shopping at Clarks Village – first-time guests are pleasantly surprised by what they find and enjoy the tranquil oasis within the shopping village, and for strategic savers, the hunt for that perfect deal is as exciting as the thrill of finding it. A further experience is the physical journey to Clarks Village – located in the heart of the South West amongst award-winning landscaped gardens, just 20 minutes from the M5 or the A303.
Steve Burge, Marketing Manager for Clarks Village, comments: "This new concept captures the anticipation and delight of outlet shopping, and the idyllic country setting acts as a metaphor for the breath of fresh air that is Clarks Village. It's fresh and unexpected, and there's a deeper meaning to 'find your way' that hints at every guest being able to find their own style and hidden gems here in Somerset. As the first ever outlet shopping centre in the UK, we have a fabulous history that we plan to honour in future, and this is one of the first steps."
Commenting on the creation of the campaign, Ben Quigley, CEO at Everything Different, adds: "Find your Way is the creative expression that marries the unique Somerset experience with the original outlet offering, anchored in a simple truth that we not only love a bargain but the thrill of the chase. Clarks Village delivers an experience that surprises and delights unlike any other outlet in the UK."
The new creatives are on display at Clarks Village and available to see around the country at railway and service stations, town and city centres, and at Bristol airport as well as on destination sign posts. The concept of experience is consistent throughout the brand's marketing, digital and social communications. New TV adverts will also be produced and broadcast over the coming months.
Clarks Village will celebrate its 25th birthday this year, and the launch of the new creatives is the first phase of the wider marketing campaign, which will also include a £25 blogger challenge over the summer, ahead of the outlet's birthday weekend in August 2018.
For more information about Everything Different, please visit: www.everythingdifferent.co.uk.
For more information about Clarks Village, please visit: www.clarksvillage.co.uk. To keep up to date with Village life, follow the Clarks Village social media channels:
Facebook – www.facebook.com/clarksvillage
Twitter – @ClarksVillageUK
Instagram – www.instagram.com/clarksvillageuk