Ladies across the South Devon will join Barbara the sheep and her farmyard friends on Saturday 7 July for the baa-rilliant ladies-only Rowcroft Sleep Walk charity event.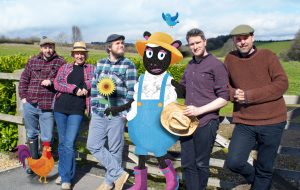 The team at Exeter-based design agency, Drive Creative Studio, has supported Rowcroft Hospice for eight years with the branding, design, advertising and promotional materials for the Sleep Walk.
This year, as well as designing and illustrating the 2018 Sleep Walk materials, Drive Creative Studio is also showing support by becoming an official sponsor of the event. Team members of Drive have been working with Rowcroft since 2005, including the Rowcroft Lottery, all Sleep Walk events and the Colour Rush paint run.
South Devon's Rowcroft Hospice cares for more than 2,000 patients a year and the money raised from the Sleep Walk will help fundcare for local families when they need it most.
Creative Director at Drive Creative Studio, Jon Price, comments, "With our core team born and bred in the South West, many of us know someone who has been helped by the important work Rowcroft does. Our long-standing relationship with Rowcroft has always been a great pleasure, and working with charities and change-makers, especially within the South West, is an incredibly rewarding experience."
He adds, "Sponsoring and working with the Sleep Walk was an opportunity for Drive to do what we do best for a client close to our heart – creating considered and effective design, all the while assisting an organisation to improve well-being in the region for patients and their families."
From the original Sleep Walk branding and illustration of its mascot, Barbara the sheep, the website and collateral, the Colour Rush campaign and website, through to Drive's Creative Director – and Torbay resident – having even sky-dived for Rowcroft, Drive Creative Studio is committed to going the extra mile for a cause it believes in.
This year Drive has produced posters, fundraising packs, sponsorship forms, bus advertising, banners, stationery and magazine advertisements as well as online material.