Luxury British boatbuilder, Fairline Yachts, announces details of its stunning new sportbridge, the Phantom 65. The boat is set to splash in June 2022 and will debut at Cannes Yachting Festival in September 2022. The Phantom 65 is Fairline's first sportbridge yacht, boasting an incredibly clean and modern design with an abundance of al-fresco dining, entertaining, and lounging spaces to soak up the sun.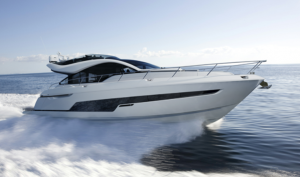 The Phantom synchronises the volume of a Squadron with the streamlined proportions of a Targa, epitomising luxury, handling, performance, and space.
Based on the technical platform of Fairline's award-winning Targa 65, the exterior of this new yacht features sleek lines and large, expansive hull windows, with a glazed sunroof to bathe the interior with natural light. The Phantom 65 features a tender garage suitable for a Williams 345 SportJet and offers two engine options – twin Caterpillar C18-1150's with 31-knot performance, or twin V12 Caterpillar C32-1622's with an expected maximum speed in excess of 35 knots.
The main deck of the Phantom 65 is designed with flexible entertaining in mind. Offering a range of useable spaces, from generous dining to comfortable saloon seating. A key feature includes a galley design that maximises workspace, has ample fridge/freezer capacity, and a sociable bar that extends into the cockpit.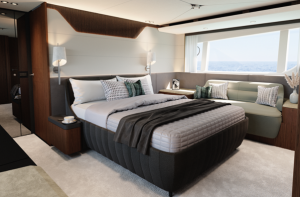 The lower deck has been designed with graceful fluidity in mind. Available with either three or four cabins, the mid-master cabin comes complete with a king-sized bed, dedicated bureau with drawer storage to the starboard side as well as a large port-side sofa. The guest cabins offer flexibility, with an electric bed conversion option to convert the (starboard) twin berths into a double. The interior design is presented with updated materials and textures throughout, complemented by a refined and neutral colour palette. At its core, the Phantom 65 offers effortless flow, blending seamlessly from one space to another creating a haven of tranquillity to relax in.
Fairline's Chief Executive Officer, Paul Grys, comments, "We are pleased to present our first sportbridge model, offering the enhanced space of a flybridge with the sportiness of our Targa models. The Phantom name has long been synonymous with Fairline and whilst we've kept the name, that is where the similarities end. The Phantom 65 is an all-new sportbridge yacht, elegant, dynamic, clean and unfussy in its design, whilst offering the handling and performance Fairline always delivers."
The Phantom 65 is available from £2,050,000 excluding VAT.
For further information about Fairline, please visit www.fairline.com.