Boats 2020 – 11-20 September 2020 – Berths M111-117
Luxury British boatbuilder, Fairline Yachts, confirms two major UK debuts at Boats 2020 in Mayflower Park, Southampton, from 11-20 September 2020. Boats 2020 is a new, smaller UK boat show in replacement of the cancelled 2020 Southampton International Boat Show.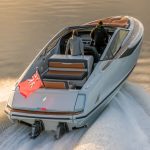 Having its first major UK debut at Boats 2020 is the multi-award-winning, sporty F//LINE 33. This category-defining dayboat is already renowned for its sleek and stylish appearance and its impressive 48 knot performance. The racy F//LINE 33 is designed in collaboration with celebrated Italian designer, Alberto Mancini and the Fairline Yachts Design Studio.
Fairline's second major UK debut at Boats 2020 is the largest model in the brand's current portfolio, the Squadron 68. Effortlessly chic, blending luxury design and a well-considered layout with Fairline's celebrated build quality and seakeeping ability, this spacious flybridge model offers grand proportions, ample entertaining space and beautiful craftsmanship.
Joining Fairline's Boats 2020 line-up is the Squadron 50. Officially launched at Southampton International Boat Show in September 2019, the Squadron 50 features luxurious details synonymous with the Fairline brand, coupled with a contemporary and stylish look. The sporty flybridge offers additional space for relaxing and helming.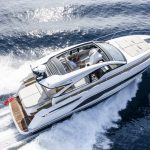 Completing the display is the Targa 45 OPEN. This sleek express cruiser has the same light, bright and stylish feel that characterises all the new generation of Fairline models. The Targa 45 OPEN boasts a large sunbed over the tender garage and an expansive cockpit seating area – the perfect arrangement for enjoying time on board.