Helly Hansen, a global leader in technical sailing clothing, announces its partnership with the Sea Ranger Service in the Netherlands, launching this month (October 2020).
Officially established in 2016, the Sea Ranger Service is a mission-driven social enterprise that focuses on the social-economic regeneration of coastal regions and improving conservation of the world's oceans, whilst tacking youth unemployment. Helly Hansen is supplying the team with the latest technical kit including the offshore Aegir Race collection, and will be working together to share insights and goals to better preserve and protect our oceans.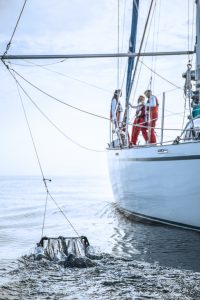 By 2050, the Sea Ranger Service's mission is to preserve one million hectares of precious ocean biodiversity, whilst supporting 20,000 young people to kickstart a maritime career. Alongside this, the enterprise is also working to develop cost-effective, zero-emission sailing vessels as fully industry-certified work ships to carry out light offshore services.
Wietse van der Werf, Founder of the Sea Ranger Service, comments on the partnership, "When our Sea Rangers set a course for sea they enter one of the most beautiful yet unforgiving environments on earth. We are proud to be able to protect them with Helly Hansen sailing gear whilst they work to protect the ocean biodiversity. Helly Hansen has a strong commitment to sustainability throughout its production, and works to protect the oceans which many of us enjoy. Helly Hansen is a natural partner for the Sea Ranger Service."
Each year the Sea Ranger Service invites 12 unemployeed youths to the programme to conduct sustainable offshore services and ocean conservation work, whilst completing their professional Seafarers certificate. It is a paid role, and the chosen team are selected from around 400 applicants and a month-long bootcamp selection process. To date, almost 100 recruits have been through the programme.
A current Sea Ranger with the Dutch service, Maxim Berman, says, "Becoming a Sea Ranger has allowed me to do something close to my heart and experience the happiness that comes from feeling like you are contributing to changing society."
Emma Russell, Marketing Manager for the UK, Ireland and Benelux regions, adds, "Helly Hansen shares many values with the Sea Ranger Service, including the mission to safeguard our oceans for future generations. We are proud to be the Official Apparel Supplier for this invaluable service, and are confident the teams can trust our brand, no matter what conditions they face. The Sea Rangers do an outstanding job in this region and we hope to help set the standard globally, encouraging more countries to develop their own Sea Ranger Service."
The unique, entrepreneurial approach developed by the Sea Ranger Service creatively combines services in youth engagement, shipbuilding, offshore services and environmental conservation to tackle youth unemployment, create modern seafaring jobs and regenerate marine biodiversity globally. The award-winning method has been running in The Netherlands since 2018 and will be scaled internationally from 2021, through a social franchising programme co-created with various partners around the world.
To find out more about the Sea Rangers and their work, please visit: www.searangers.org.
For more information about Helly Hansen and its products, please visit: www.hellyhansen.com.