Offshore and coastal sailing is pure pleasure until clothes get wet and the body gets cold. Helly Hansen ensures all-day comfort and dryness with the new men's and women's Skagen Offshore Jacket and Bib.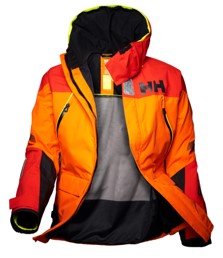 The Skagen Offshore Jacket, built for professionals but available to all, provides complete protection against wind and waves with Helly Tech® Performance waterproof, windproof and breathable construction. The fully-featured jacket is built for long days on the water in inclement conditions with a high, protective, profiled collar and facemask, double cuffs, storage pockets and fleece-lined hand-warmer pockets. The design is completed with a high visibility hood and SOLAS-approved reflective elements to enhance safety.
The Skagen Offshore Bib, available in men's and women's sizes, is tough as nails yet provides comfort and mobility when conditions get rough. The bibs are designed with a high back for extra protection and Helly Tech® Performance fabrics to keep cold wind, waves and rain at bay. Adjustments are built into the waist, legs and knees for a tailored fit while seat and knee reinforcements ensure the bibs won't be damaged by hardware and heavy use on deck.
To learn more about Helly Hansen's latest collections, visit www.hellyhansen.com