Helly Hansen WorkWear is honoured to be recognised as a Red Dot winner for its new Bifrost Winter Parka. Designed as a true winter workwear garment and designed and tested alongside scientists working in the toughest conditions, the parka was rewarded in the world's most renowned design competition by an international jury of experts in a variety of disciplines.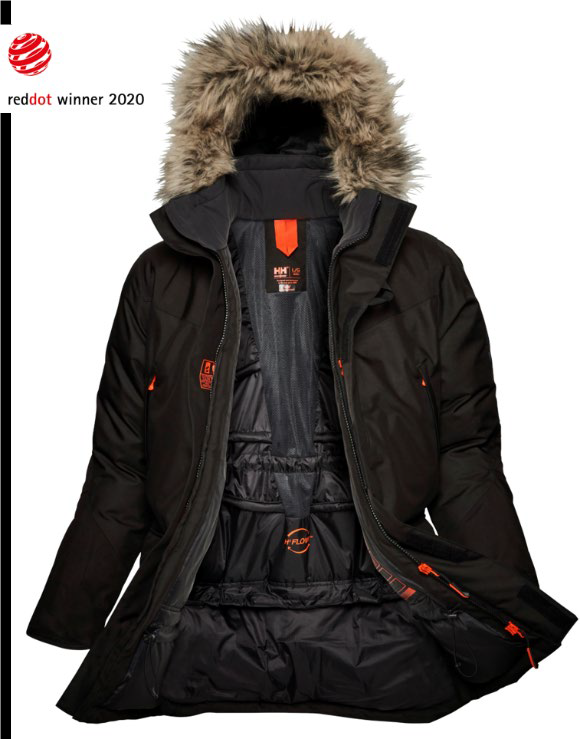 Developed with the insight and experience of living and working in unpredictable weather, every detail of the parka has been designed for warmth in serious winter conditions, while remaining
functional and versatile as a workwear garment.
Based on the feedback and insight of scientists working in arctic conditions, the Bifrost Winter Parka comes with a variety of winter-specific features, including a loop at the storm flap and larger adjustable hood strap for easy use while wearing gloves. The parks also features a multi-pocket solution with dedicated compartments for your phone, tablet and power bank, which can be accessed with external zippers so the parka can stay zipped, keeping cold air out. The parka also comes with Primaloft® Black Eco insulation, which dries faster and is more water resistant than down, and an insulated Life Pocket™, ensuring cold temperatures don't drain your battery while at work.
Adding to the functional cold-weather details, the Bifrost Winter Parka also features Helly Hansen's advanced technologies, including HELLY TECH® Professional waterproof and breathable fabric, and the H2Flow™ temperature regulation system – which optimises insulation and stores warmth from the body, while also controlling heat and airflow through ventilation zippers. Additional features of the parka include a fully taped construction, reinforcement on exposed areas like the shoulders and elbows, a draft stop inner skirt, and an adjustable waist, cuffs and collar for optimal fit.
Andreas Pohl-Larsen, Product Director for WorkWear at Helly Hansen, says, "The design team and I are thrilled to win the Red Dot for the Bifrost Winter Park. We saw the need for a true winter
workwear garment made specifically for professionals working in the harshest weather conditions, and we're honoured that the parka's craftsmanship and thoughtful design have been recognised with this prestigious award."
As the first product in a range that will continue to expand over the following years, the Bifrost
Winter Parka will be available in Fall 2020 at: www.hhworkwear.com.