The McMurdo SmartFind G8 AIS is the world's first EPIRB to include 406MHz, 121.5MHz, AIS and GNSS to accelerate search and rescue. This multiple-frequency capability accelerates rescue times by combining the global location power of 406MHz with the localised rescue capacities of AIS. It is also the first EPIRB to support multiple sources of GNSS – including GPS and Galileo. This ensures faster detection, superior positioning accuracy, greater signal reliability and, ultimately, accelerated rescue of people or vessels in distress.
Chris Loizou, Vice President Maritime Business Line at Orolia Maritime, said, "The multi award-winning McMurdo SmartFind G8 AIS EPIRB is a shining example of our continued dedication to product innovation in the maritime industry. This EPIRB is part of a wider portfolio of powerful technologies that is designed to improve localised capabilities, increase the accuracy and speed of rescues, and ultimately keep people safe while they navigate our world's waterways."
Orolia Maritime is the marine arm of Orolia's leading Resilient Positioning, Navigation and Timing solutions. Its unrivalled portfolio of marine technology sits across four powerful technology solutions: Fleet Management, Data Capture & Analytics, Emergency Readiness & Response and Navigation Safety. Its technology, delivered through the globally recognised maritime brands of McMurdo, Netwave and Kannad, is used and trusted by commercial shipping companies, local and national governments, maritime organisations, search and rescue teams, and other organisations who live and work on the world's waters.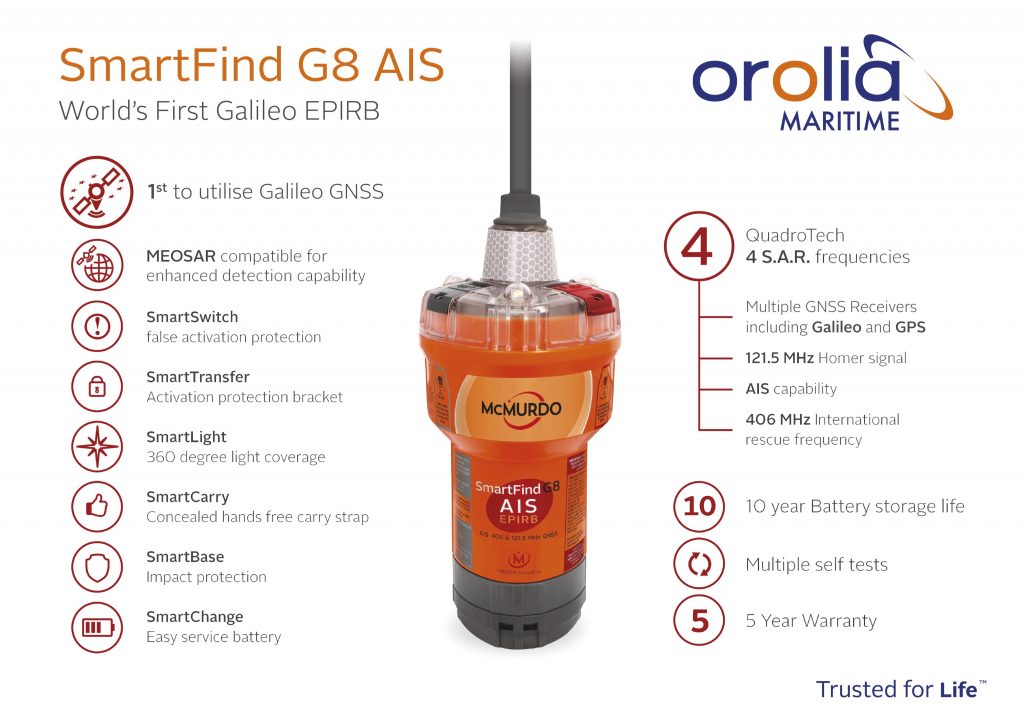 For more about Orolia Maritime and its range of solutions, please visit www.orolia.com.