Love sailing and technology? racegeek, creators of the innovative d10, a cloud connected marine racing display and tactical computer, are all set to wow visitors to TheYachtMarket.com Southampton Boat Show.
Designed by racers for racers, the d10 is a tactical racing tool that collects and seamlessly uploads racing metrics to the cloud.
JC Durbin, co-founder of racegeek explains, "We believe in creating racing technology that is able to meet the various needs of the day sailor as well as the hard core professional world class racegeek.
So we are designing, developing and building cutting edge racing electronics and software that are simple to use, but sophisticated in their ability to help sailors and the sport improve. Whilst technology won't automatically make you sail better, it gives you the capability to rapidly accelerate your improvement."
Piers Hugh Smith from SailSmith Racing and Team Maverick, has been putting the d10 through its paces, as part of training for the 2017 Tour de France A La Voile.
Piers comments, "The d10 combines clarity and simplicity, but with a real depth of functionality and flexibility of application that makes it unrivalled in this sector.  Analytics provide us with some context over the day's sailing and allow us to quantify changes to see whether things that feel faster really are. Data adds depth to our development and it is important that whatever technology you are using is focused and simple. The d10 display has unrivalled size and clarity and to me it is like going from standard definition TV to HD TV. The d10 also offers great functionality but presented in a very simple and easy to understand way- no option for cluttered display and well separated functionality that makes reading and using the device very simple.
Piers continues, "There is scope to delve deeply into the settings and customise the unit's performance and be a bit of a geek for the last % of accuracy. This yields some pretty impressive accuracy and functionality that isn't really matched by any instrument system until you get up to big boat style, separate processor and display units. Delivering this all in one unit is one of the key benefits."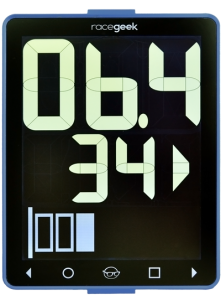 Key features of the d10 include the large 60 and 40mm digit backlit waterproof LCD display with Corning®Gorilla® Glass protective cover, inbuilt compass and GPS and Wi-Fi connectivity. The race mode has three separate functions – prestart, performance and navigation – giving sailors the core numbers to get around the race course. The display automatically changes between function during the stages of the race giving sailors what they need, when they need it – from countdown and distance to line; to boat speed and wind angles; to waypoint angles and distance. The water resistant d10 is easy to connect and fits to a mast using a clip on bracket.  Sailors wanting additional technical functionality can connect device or software packages that support NMEA via Wi-Fi or cable and stream data to or from the d10 and customise data displays.
Ric Morris, co-founder of racegeek comments, "We've had fantastic feedback from and valuable testing in the SB20 and J70 fleets and professional racegeeks like Piers Hugh Smith. If you are putting a campaign together then we'd love to meet you at TheYachtmarket.Com to demonstrate the d10 and see if there are potential opportunities to work together. We are also thrilled to have a fantastic distributor network onboard helping to bring the d10 to a global racing community.
Irish sailor, Tom Dolan, who lives in France, is planning to use racegeek's d10 to help improve his performance as he prepares to compete for the second time in the Mini Transat that starts in October 2017 – a 4,000-mile epic from La Rochelle in France across the Atlantic to Le Marin in Martinique. Tom says, "
I can't wait to start using racegeek's d10 with its precise data collection and race analytics to help give me the edge in training in the pursuit of a podium place."
Racegeek's distribution for the UK and US territories will be handled by eurotask Ltd, an experienced specialist distributor of premium marine electronics, based in Portsmouth, England. Eurotask has access to a variety of sales channels throughout the UK and US.
Eurotask's Director, Mark Luffingham, comments, "racegeek is a great example of a small start-up company with big, exciting ideas for a whole range of new products and apps. The team are bringing the best of 21st century technology to the sport and I am very excited to be working with them as we roll out the d10 which is just the first of a whole range of new products designed for the sailing market."
The d10 is race legal in the following classes: HP30, Super 12, C&C 30, Seascape 24 and 27, SB20, Farr 30 and Farr 40, J22 and J24*, J70, J80, Melges 20, Melges 24 and Melges 32, Moth, and Platu 25. The d10 can be used in IRC, ORC and PHRF races.
The RRP for the d10 is £949 (including VAT), US$999, €895 (excluding VAT). The d10 can be ordered now from the racegeek website, www.racegeek.ie or from racegeek's global distributor network.
To see the d10 from racegeek in action please see the short film, available at: www.youtube.com/watch?v=bCFITcABaEU