The world's premier yacht charter company, The Moorings, is proud to introduce the 50th anniversary edition of its award-winning brochure. To align with company-wide sustainability efforts, this is the first year that The Moorings' brochure will be available exclusively online.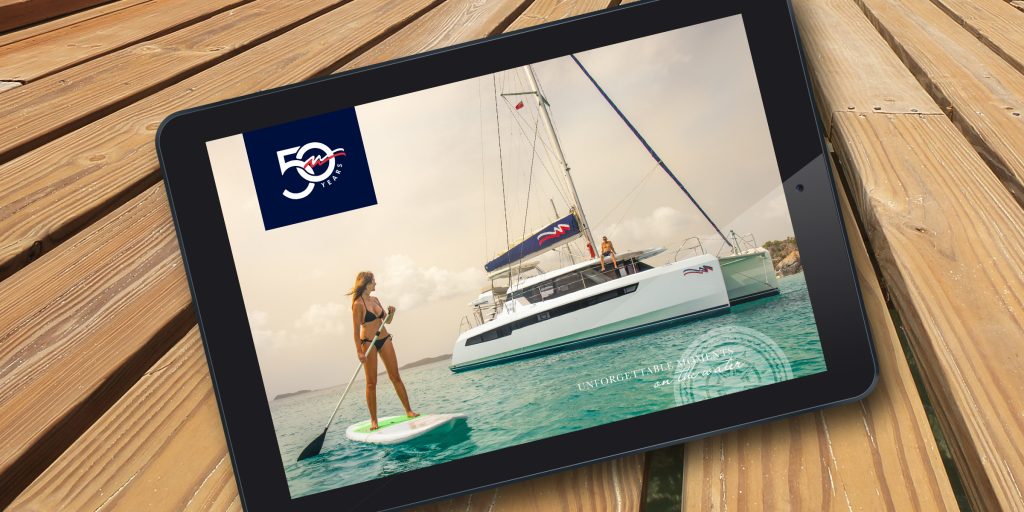 In addition to an expansive fleet of state-of-the-art yachts and a diverse menu of premier travel destinations worldwide, The Moorings' 2019 brochure features a number of exciting new charter options, including:
NEW Robertson & Caine Sail Catamaran: the Moorings 5000
Available now in the British Virgin Islands, the Moorings 5000 is a next-generation sail catamaran that sets the pace for yachting performance. Accommodating up to 11 guests, the four spacious en-suite cabins are each with zoned air conditioning for personalised climate control. The Moorings 5000 also features a salon skylight, onboard water maker, electric flush heads, elevated lounge area with wraparound seating, and stylish blue underwater lights.
The ultimate all-inclusive holiday in the British Virgin Islands can now be enjoyed aboard a Crewed Moorings 4500, ideal for charter parties with up to six guests, or a Crewed Moorings 5000, equipped to comfortably accommodate up to eight guests. These two premier charter yachts are the newest additions to The Moorings leading-edge fleet.
NEW world-class destination: Antigua
            Highly regarded as one of the most desirable sailing destinations in the world, Antigua     offers a quintessential Caribbean appeal. The largest English-speaking Leeward island,    Antigua boasts 365 beaches and secluded anchorages best explored by yacht. The     Moorings charter base is conveniently located at the historic Nelson's Dockyard in English Harbour. A designated UNESCO site, this premier Antigua marina pairs timeless            architecture and naval heritage with modern amenities and stylish accommodations.
NEW world-class destination: Sicily
The timeless Sicilian coast can now be explored on board a private sailing yacht in Portorosa, The Moorings' newest destination that seamlessly blends the best of Italy, past and present. Throughout the Aeolian Islands cruising grounds, guests will enjoy consistent sailing conditions, and a delightful sampling of secluded anchorages both modern and traditional.
NEW SailEATalia flotillas in Italy
The new "SailEATalia" Sail, Wine and Taste of Italy flotillas are exclusive one-week sailing holidays offered in Procida and Sicily by The Moorings partner, Sailitalia. This specialized food and wine inspired group charter experience includes a lead yacht with licensed crew, as well as a day in the company of a chef, who prepares authentic dishes and teaches guests how to create them at home.
Lucy Black, Head of Marketing for The Moorings, says "We always look forward to sharing the latest version of The Moorings' brochure with our guests and this year is extra special – not only is it the 50th Anniversary edition, but it is the first time we're introducing our paperless brochure available exclusively online for immediate viewing." .
To learn more about what's new with the world's premier yacht charter vacation company, please visit www.moorings.co.uk/brochure to view The Moorings 2019 brochure online.