FUSION® Entertainment, a world leader in audio entertainment equipment, has announced today that it will be renewing its contract with Axopar Boats. Axopar Boats has been manufacturing vessels with FUSION audio equipment since they first exchanged contracts in 2016, with the flexible solutions being a winning addition to the various model designs of the Axopar Boat range.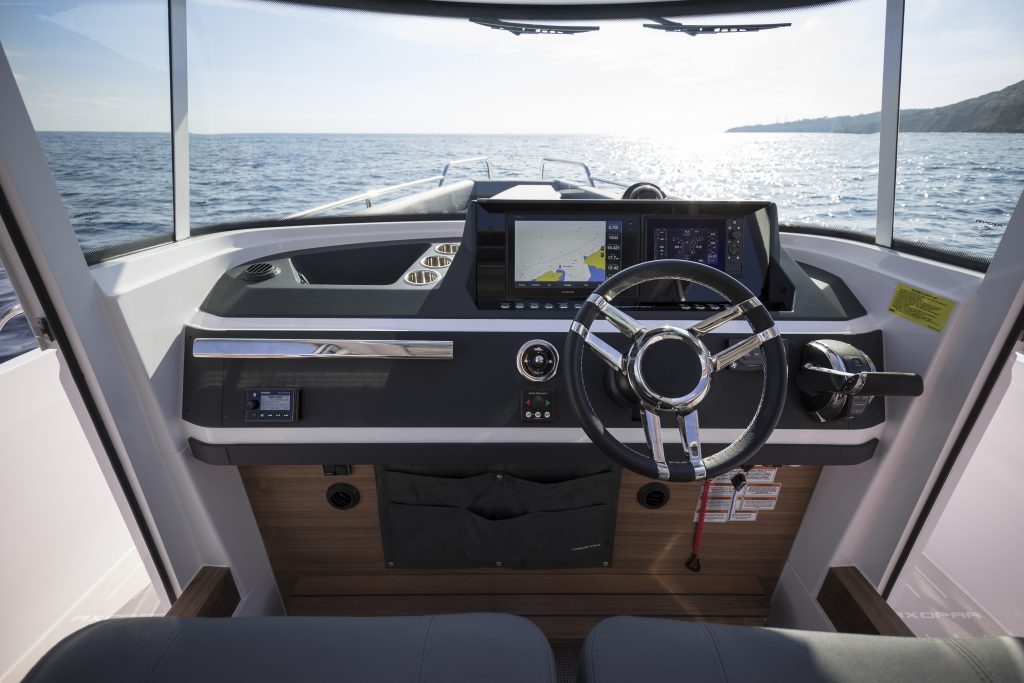 Ideal for installation where space is limited, FUSION Entertainment products combine performance and subtlety in a convenient package. The full-featured MS-BB100 Black Box Entertainment System offers FUSION-Link™ via NMEA 2000 control, enabling Bluetooth audio streaming on iOS and Android, as well as Multi-Zone™ technology. The MS-BB100 is a true 'plug and play', compact entertainment powerhouse, which is compatible with the world's leading Multi-Function Displays for intuitive True-Marine™ audio playback and easy, total control.
"Renewing our contract with Axopar Boats galvanises our reputation as the leading marine audio entertainment brand," said Chris Baird, managing director, FUSION Entertainment. Continuing with the latest in his luxury brand story, Chris explains, "Axopar is an example of true innovation in this field and we couldn't be happier to provide its customers with excellent audio entertainment. By continuing to offer FUSION entertainment systems on its boats, Axopar is giving its customers that perfect fusion of high-power performance and high-quality on-the-water entertainment."
Axopar boats are designed with the unifying principles of outstanding handling, distinctive design, onboard functionality and competitive pricing. Debuting in 2014 with the Axopar 28, the company has grown significantly with over 1,500 boats produced and sold to date – which makes Axopar one of the fastest growing boat brands in Europe. Incorporating a modular design for adaptability to wide market and customer needs, the boats are easy to access and simple to handle, with the combination of exhilarating driving and industry-leading efficiency.
"We are thrilled to be renewing our contract with Fusion Entertainment" said Jan-Erik Viitala, Co-Founder of Axopar Boats. "Delivering the highest level of quality for our customers is at the core of everything we do, and Fusion products have consistently delivered in meeting our requirements, giving our customers the ultimate on-the-water experience."
Built with a highly effective aluminium heat sink integrated into the chassis side panel to allow greater dispersion of heat for sustained high performance, the FUSION MS-BB300 provides three independent audio zones, each with their own volume control options. Boaters can adjust each zone independently or globally from any connected FUSION-Link MFD or MS-NRX200i wired remote. Advanced FUSION-Link audio control is also available when utilising an existing NMEA 2000 network to connect to a MFD. A full list of supported MFDs can be found at www.fusion-link.com.
FUSION, the leader in luxury marine entertainment, is dedicated to offering innovative solutions that enhance personal leisure time, whether on the water or on the road. FUSION, backed by Garmin, builds products that exceed regulatory standards using the latest technologies at Garmin's international ISO accredited manufacturing facility.
For more information on the FUSION BB100 Black Box Entertainment System, the NRX Wired Remote Controller, FUSION or its entire line of marine audio products, please contact 623-580-9000 or visit www.fusionentertainment.com. Visit www.fusion-link.com for a list of supported multifunction navigation systems.
Check our press room regularly for more examples of luxury brand storytelling.