We're focusing on the all important art of copy writing this week. Copy writing is essential to enable your audience to understand more about you and your product, encouraging them to follow your calls to action. One of the most compelling aspects of copy writing is brand storytelling, which helps to elevate brands by connecting them more closely with their audiences. Read on for a deep-dive into brand storytelling or listen to Episode 8 of our podcast, Revitalise & Grow for our beginner's guide to copy writing.
What is brand storytelling?
Since the beginning of time, humans have told stories. From a young age they helped us to understand the world and spread ideas. Storytelling is like painting a picture with words and is a key content marketing tool. It enables you to create compelling content that brings people together and creates a sense of community. If you share your brand story so consumers can instantly relate, they will take the time to listen to your message and understand the benefits of working with or buying from you. Story telling gives meaning to your business and sets apart loyal customers from one-time shoppers.
Your brand story is not simply your 'About Us' page, it illustrates what your brand stands for, helps consumers understand the reason you came in to existence, and – when done successfully – evokes emotions. It is also important to remember that a brand story is not all about you as the company – the most powerful brand stories feature their customers as the stars.
Key takeaway: Brand storytelling is not an advertisement or a sales pitch.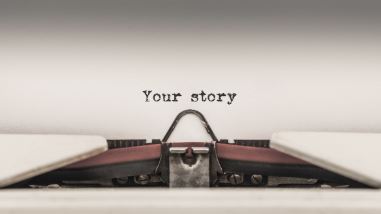 Where do I start?
Clarity is fundamental to creating a brilliant brand story. We need to tell stories that compel a purchase decision. The key is to be transparent and 'authentic', a term that is thrown around a lot these days, but by being honest, true, and connecting emotionally with your customers they won't be able to imagine any brand experience but yours.
The first steps to building your brand story are:
What makes you remarkable? What are your USPs (Unique Selling Points)? It could be the tailored service you offer, quality, location, or value for money you provide. This is what makes you stand out from the competition and is the heart and soul of your business. Be careful, your USP is not a list of the services you offer. It is also very possible that you have more than one USP based on your target audience. Which leads me on to the next point…
Who is your ideal customer? Who is it that wants to hear your story? Understanding exactly who your audience is and what motivates and appeals to them is game-changing. Think beyond the traditional demographics (age, income bracket etc) and more around their lifestyle, values and choices. You may have different groups of ideal customers. For example,  a holiday destination may wish to appeal to couples, food lovers, wedding parties or family gatherings. Segment these groups and think about what USPs appeal to each of them, then tailor these and use as the basis of your story telling.
Don't be afraid to survey your guests/ existing customers. They are the best source to tell you what they love, what they would like more of and maybe what you can do better.
How can you help your audience? What are their problems or pain points, and how does your brand help to solve those issues? Once you understand their problems, then you can develop your solutions, focusing on what provides most value to your customers.
What objective do you want your brand story to achieve? Understand the motivation behind why you are telling this story. Whilst driving intention to purchase is probably your number one goal, audience engagement or building a community are also key objectives; or increasing awareness of your brand/product/service. Maybe you want them to sign up to your newsletter, book a consultation, or follow you on social media. Be clear on the action you want your audiences to take after reading your story and make this clear (this is your "call to action" or CTA).
How will you tell your story? Share your expertise, case studies and how-tos. Show people what goes on behind the scenes and how passionate you are about what you do. Describe how you have helped previous customers and whilst your story telling should not be all about you or your company, customers want to see the faces behind the names to build trust and authenticity. Impart your hard-won knowledge or educate your audience via a story about trial and error that has led you to where you are today; or tell a story that taps in to familiar emotions or situations that your audience find themselves in to portray your brand values. Always encourage a response for your audience to share their experiences too.
Words are not the only way to tell a story, consider all formats available to you. Sometimes a picture is worth a thousand words and you can better portray your story through a video. Perhaps an experiential event or workshop would work, or an interactive graphic, quiz, mobile app, podcast or even augmented reality!
Putting ideas into action
With your messaging, audience, call to action and objectives defined, it's time to start crafting your brand stories.
The most important step is to really understand who your customers are, or could be, and what inspires them to purchase. Find ways to show them that your product is exactly what they're looking for. If they can see themselves as characters in your story, they are more likely to buy in to your product. Make sure your stories follow the classic storytelling formula with a clear beginning, middle and end, and include common story elements such as a character, conflict, resolution and plot.
Whilst this may sound complicated, simply think of it as:
Beginning – this sets the scene, introduces the characters and outlines the problem they have (that your product or service can resolve)
Middle – This is where you can detail how your character buys in to your solution
End – This is the resolution and should outline how your character is benefitting from your solution
Remember the best stories are not your own, but those of your customers. Sourcing these stories can be difficult, but when you find one that that will really touch people's hearts, be sure to invest in it to bring it to life. Get to know your customers, create a culture of sharing and ask them to share their stories and memories through social media, newsletters or even competitions. Don't forget your team as well, sometimes those working on the front-line serving customers have the best stories to tell.
Reflect on how a product makes you feel and tell stories based around these emotions. Consumers buy with emotions rather than with their heads, no matter how much we think we are making a logical buying choice. Take a look at Costa Coffee for example – most of us have tea and coffee making facilities at home, but Costa have sold us a lifestyle based on emotion where we would rather drive and pay for one of their coffees.
Getting your story seen
Once you have a great story, it doesn't end there. You need to ensure you get the right content to the right people at the right time. Whilst social media, especially the likes of Instagram and Facebook, are considered leading channels in distributing content, it is only successful as part of a larger marketing effort. It's important to understand where your audience 'hang out' and may stumble upon your content.
Your most important tool is your own website or blog, as this is a space you own and are in complete control of, but also consider newsletters, guests posts on other publications, podcasts and video sharing sites such as YouTube and Vimeo.
"Marketing is no longer about the stuff that you make, but about the stories you tell" – Seth Godin, Author, Entrepreneur & Marketer. Check out Episode 8 of our podcast, Revitalise & Grow, for more on writing compelling copy!
Related: How to get your travel content seen without paying for advertising
Communication is critical to your business success, but it needs a plan and strategy to be effective. If your business needs some help, see what we can offer you by checking out our affordable Confident Communication Planning Package.
Building on your PR strategy doesn't need to be complicated or costly, but you need to create and deliver a comprehensive plan because it will have a positive impact on the bottom line of your business. Don't just download our PR For Small Business guide – actively utilise the tools it offers for your business. We guarantee you'll see results!