Generation Z (also known as Gen-Z or Post-Millennials) are those born roughly between 1995 – 2010. Whilst their predecessors, millennials, were digital pioneers, Gen-Z are tech-savvy digital natives who have grown up with a highly sophisticated media and technological environment. Understanding how we can appeal to Gen-Z through consumer PR examples will be key for campaigns going forward.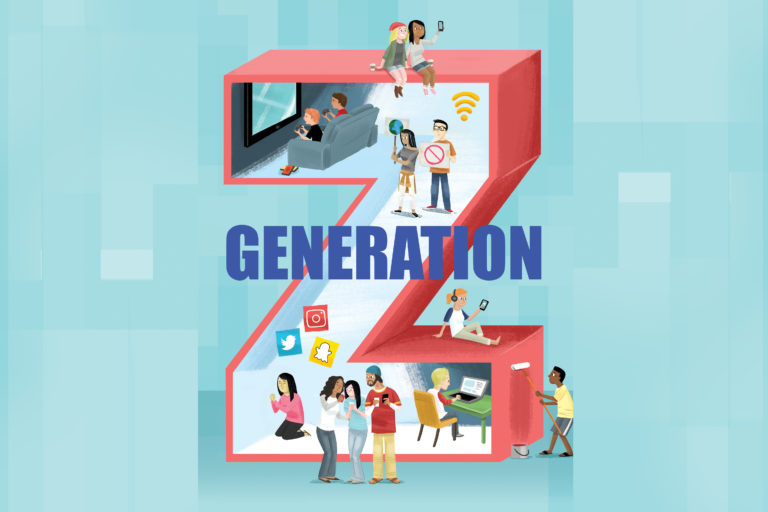 As the eldest of Gen-Z begin to turn 23 and enter the workplace, the demographic is widely recognised as the next consumer powerhouse. It is estimated that Gen-Z will account for around 40 per cent of all consumers by 2020. Understanding the Gen-Z perspective is key for brands to transform their consumer marketing and PR campaigns to reach this group of consumers.
Generation Z have grown up with uncertainty all around them – from recessions to the war on terror and social unrest around the globe. They are realists – they know that nothing can be taken for granted and are keen to make their own way in the world. In a recent study, 72 per cent of teens said they wanted to start their own business one day.
They are open-minded, as previously gendered jobs become much more gender neutral, and research has shown that they are also interested in racial, gender and income equality, as well as environmental issues.
From a technological point of view, Generation Z take in information instantaneously, but they lose interest just as fast. Research suggests you have just 1.2 seconds to grab their attention, so it's likely that the best consumer PR examples will engage with them on a deep level.
Connectivity is highly important to Gen-Z as they use different social platforms for different activities. This is usually done in quick touches that might only last a few seconds as they fragment their social media time to share certain types of content on particular social channels. Although their interactions may be short, they are frequent – with Gen-Z checking their social media accounts up to 100 times a day. Through all their social interactions, they are also savvy at protecting their personal data and adjusting the privacy settings on each of the apps they use.
Generation Z are multi-tasking and multi-channel wizards. With technology all around them, they can work on multiple tasks at once and efficiently shift between work and play, with multiple distractions in the background.
Interestingly, members of Generation Z are more likely to watch YouTube or Netflix than TV with a recent study suggesting as many as half of the demographic spend at least an hour a day on YouTube.
Another major difference with Generation Z is that unlike prior generations who idolise movie stars and celebrities, they are inspired by influencers who have made a name for themselves on social platforms.
So now that we understand Generation Z, how do we connect with them through consumer PR?
Whilst it goes without saying that Generation Z can be reached via social media platforms, it doesn't end there. Brands need to utilise consumer PR examples which adapt to the way Gen-Z consume messages – concise and tailored to their interests and beliefs, to gain market share.
Keep it tailored
Consumer brands must understand how Generation Z utilise different channels for different purposes and marketing posts must be tailored as such. For example, a recent study suggests they use Twitter to get news, Facebook to glean information, Instagram to showcase their aspirational selves and Snapchat to share their real-life moments.
Keep it concise
With just 1.2 seconds to grab the attention of Generation Z, consumer PR messaging needs to be clear and concise. Email marketing that may have worked with previous generations who are happy to take some time to digest, may be ignored by Generation Z who are eager to check out the next message, unless it tells a quick story with relevant values that appeals to them.
Understanding values and tone is key
Being overcomplicated will not resonate with Generation Z who expect a more friendly and personable tone from brands due to their high social media use. Examples of consumer PR should consider their core characteristics (realists with a desire for equality and fairness in the world) and ensure you are clear about what your consumer brand stands for so that it's not seen as uninvolved or opposed to the social issues that matter to Generation Z.
Engage
Consumer PR content that enables Generation Z to interact will gain more market share than content that simply talks at them. Encourage Generation Z consumers to help produce or create the message and they'll be much more responsive to it.
Be authentic
As realists, Generation Z are looking for authenticity rather than contrived brand messaging and airbrushed imagery. They value real people who reflect their own lives and real experiences to tell a brand story. It shouldn't all be about product to gain the attention of Gen-Z, but the consumer brand experience including brand stories, responsible operations and sustainability.
Video is important but the way it's seen is changing
With this generation shifting to spend more time on their phones or devices rather than watching live TV, brands need to consider a shift in advertising methods with video content that is concise, informative and entertaining.
Marketing teams will benefit from keeping up with Gen-Z's social media behaviours and learning to communicate in new ways. Consumer PR messaging needs to be snappy, bespoke and socially meaningful in order to fully engage an audience that will soon be dominating the market.
Read our comprehensive guide to consumer PR for examples and further information on creating epic consumer campaigns.
Your business survives because it's providing a product or service that others either need or want, but how will anyone know how good your company is if you neglect to tell them about it? Don't allow your competition to get ahead of the game and sign up to our Optimised Product Launch service. Whatever it is you're planning to launch, you can leave it in our expert hands to reach the audience you want, accompanied with awesome content that will drive sales and position your company in the best possible way.
Getting your consumer PR campaign right is critical. It's not a quick process and will take time, energy and investment to ensure you're speaking to the right people, with the right message at the right time. But we're here to help, view our Consumer PR 101.