Competitions are a great way to build awareness and generate consumer engagement with your brand. Through entering the competition, consumers are automatically interacting with your post and your brand and the beauty of it all is, any brand can do it! Here are our top three ideas for hosting competitions for your travel brand.
Instagram
In terms of platforms used for competition promotion, Instagram is the new kid on the block. Competitions on Instagram can not only be posted for no cost at all, they can reach a much vaster audience through likes and reposts than just those who actively follow your account.
Out of Instagram, Twitter and Facebook, Instagram has been shown to receive higher engagement rates, sometimes achieving 70% faster follower growth for those who host competitions than those who don't. One of the best ways to host a competition on Instagram is to post an eye-catching image of the prize up for grabs and how to enter (and don't forget about T&Cs).  For example, in this contest by beauty retail giant Sephora, entrants were required to follow two accounts and take action on their stories to be in with a chance to win.
You could also get entrants to post a picture relating to the competition on their own page – like Hillside Beach Club's #JobAtHeavenOnEarth Contest. The 5-star resort in Turkey ran a contest to get Six Chief Instagram Officers. The prize was a week's stay at the resort and takeover of the Hillside Beach Club's Instagram. To enter, people posted their own beach photos on their feed, tagging Hillside Beach Club and #JobAtHeavenOnEarth. This is a great way to get posts mentioning your brand circulating, creating engagement and traction for the competition. Either method will successfully create engagement and can be tailored to suit the needs of a travel brand.
Magazines
Magazine promotion is the oldest and easiest way to reach a large, targeted audience. Magazines have well-established reputations and are respected by their readers for being trustworthy. Targeting a well-known magazine with reader offers or competitions gives your travel brand credibility and can help you reach a wide and engaged audience.
For example, The Sunday Times Travel Magazine hosts competitions in partnership with travel brands in every edition. As you can see, there is lots of detailed information available to the reader along with stunning high-res imagery to entice the reader. This is perfect if you have a luxury travel brand.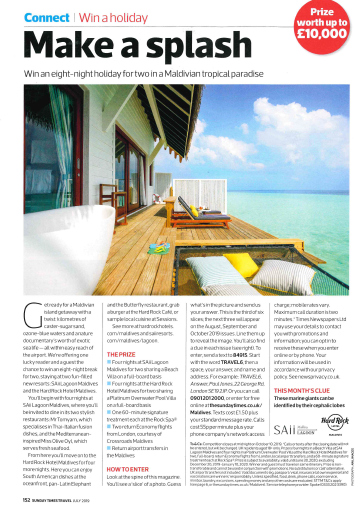 TV
When it comes to TV, you're going to need a bigger budget… but if you've got it, flaunt it! TV is the best way to get mass coverage to a target audience through a media that is trusted and familiar to a wide age range. Holiday and cash prizes are very popular on TV, you can tailor the airing of your competition ad so it sits alongside a relevant programme. Alternatively, partnering with a show that frequently hosts competitions is bound to get you noticed!
For example, Good Morning Britain, a popular UK breakfast show, host competitions for travel and cash prizes all year round. The morning show hosted a Love Island prize draw courtesy of travel brand Jet2holidays. This creates awareness of the travel brand from a trusted source outside of its current consumer.
If you would like some help in planning and executing a hard hitting competition strategy for your travel brand, please get in touch today to discuss how we can help.
If you would like more tips to grow your business, read our ultimate guide to travel PR or simply pick up the phone for a quick chat: 01460 241641, or drop us an email: hello@adpr.co.uk.