With so many varied forms of marketing content, it can be difficult to pin down the exact point where one strategy ends and another begins. This is especially true in relation to the online world, where PR and digital marketing channels are often considered alongside one another.
Here, we explore the differences between digital marketing and PR and whether it is possible – or necessary – to distinguish between the two in a PESO world.
What is PESO?
The PESO model was designed by Gini Dietrich, who emphasised the importance of a shared marketing platform:
"If you aren't using the PESO model for your communications work, and measuring the meaningful metrics that help an organization grow, you will not have a job in 10 years." – Gini Dietrich.
The model is made up of four different content types: paid, earned, shared and owned. Here's a short breakdown of these different channels:
Paid – This relates to paid advertising or content. This is when you exchange money towards a PR or marketing goal, such as through social media or email marketing.
Earned – The earned sector is often associated only with PR. It refers to connections that your content has achieved, such as links from other sites and coverage of your brand in publications (print and online).
Shared – This is where targeted content is shared across an established audience, such as through social media or email campaigns.
Owned – Owned media refers to your own branded content, for example your website and social channels.
The below is a colour-coded infographic from Gini Dietrich's Spin Sucks. This helps to
illustrate the different components of the PESO model: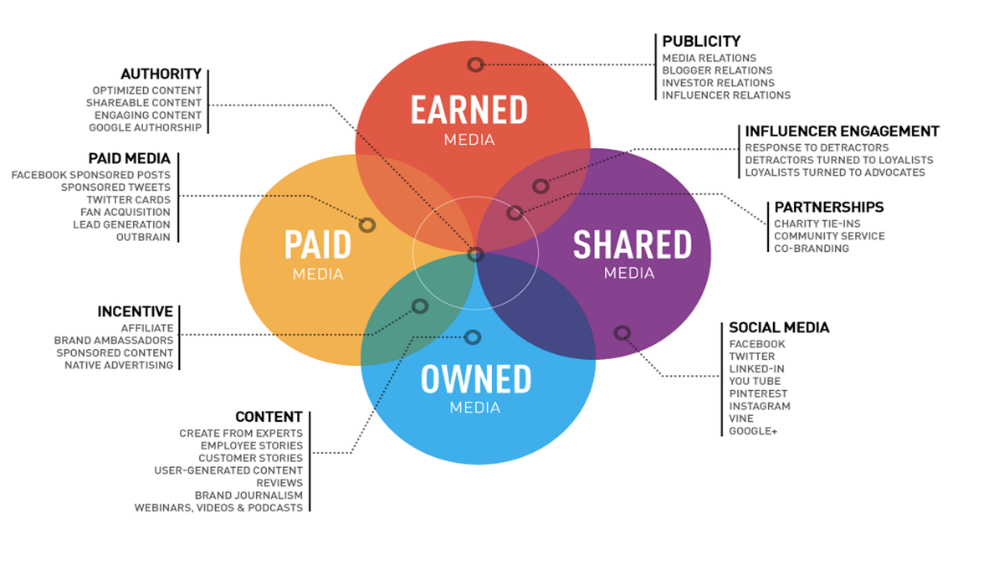 Image Source: Spin Sucks
The model shows the distinct content types alongside each other. This has achieved two things: it has made it easier to consider each content type's strengths and weaknesses, and it has helped businesses to form more comprehensive marketing communications strategies.
However, by linking these content types, the PESO model makes it more difficult to define the differences between PR and digital marketing!
The easiest way to understand these differences is to define each marketing channel so we can understand how and where they differ and the benefits of using a combined approach.
What is PR?
Public relations (PR) is most easily defined as a form of communication that works to improve a business's reputation. PR is all about connections. It seeks to promote brand awareness in a two-way form of communication. We can use PR methods to make brands known, change public opinions and promote business growth. Whether online or offline, this is a form of marketing that involves close communication and strives to improve and protect a business's reputation.
What is Digital Marketing?
Digital marketing tactics focus on advertising through digital mediums such as search engines, websites, social media, emails and mobile apps. This can involve paid methods, such as pay-per-click advertising (PPC), and organic methods such as keyword targeting and search engine optimisation (SEO).
Applying the PESO model
As mentioned earlier, one key advantage of the PESO model is that it shows how the different disciplines, when combined, work together to support the overall business goals.
PR and digital marketing are highly complementary. PR can help build and maintain a business' image, prompting customers to search for a company and digital marketing can then help to drive online sales and conversion rates.
As we look forward to 2019, the lines between the different marketing tactics will continue to blur. It is important marketers use all relevant activations from across the PESO model to create comprehensive marketing campaigns that are designed with their target audience front of mind.
If you found this informative, why not visit more of our consumer tips with ADPR's Consumer PR 101
You have created a product or service that your customers want or need. That is an amazing achievement. How often do you take the time to step back from the day to day to focus on the bigger picture within your business? With just a few small tweaks your company could be even more successful than it already is.
We have created the Revitalise and Grow sessions to do just that! And they're absolutely free. We are passionate about helping businesses succeed and we know that communications is a powerful tool to help you achieve your goals.