Valentine's Day is supposed to be a day of love, romance and showing how much you care. But how did it start? And why do we love it so much? Is just a great marketing ploy?!
The first recorded Valentine's Day was way back in the year 496. The tradition is thought to have originated from a Roman festival called Lupercalia, held in the middle of February to officially mark the start of springtime. Fast forward to 2020 and it's quite the commercial ordeal. Chocolates, dinners, presents, surprises and so much more…
We take a look at some of our favourite campaigns centred around the big day:
Krispy Kreme have launched a delicious trio of your new favourite flavours, designed in heart shapes with lashings of chocolate, sprinkles of strawberries and nuts, and dipped in even more chocolate.
The brand's marketing campaign is centred on "It's a match" – linking to the new flavour combinations, but also hinting to some popular dating apps and TV shows.
What's not to love, these tasty treats don't care if you're coupled up or single (all the more to enjoy for yourself)! Available to order or find instore from 10-16 February. YUM!

Sticking with the food theme, in 2015 Starbucks teamed up with Match.com for the world's biggest Valentine's Day coffee date.
Since Match.com reported more than 3 million of its users had ticked "coffee and conversations" within their interests, the brand collaborated and stirred up the world's biggest coffee date. Inviting their subscribers to meet at Starbucks for a #StarbucksDate, where they could try a new menu of hot beverages "matched" with a yummy treat.
The date was a big hit with more than 9,000 dates taking place. It was the perfect match – social media, coffee and dates!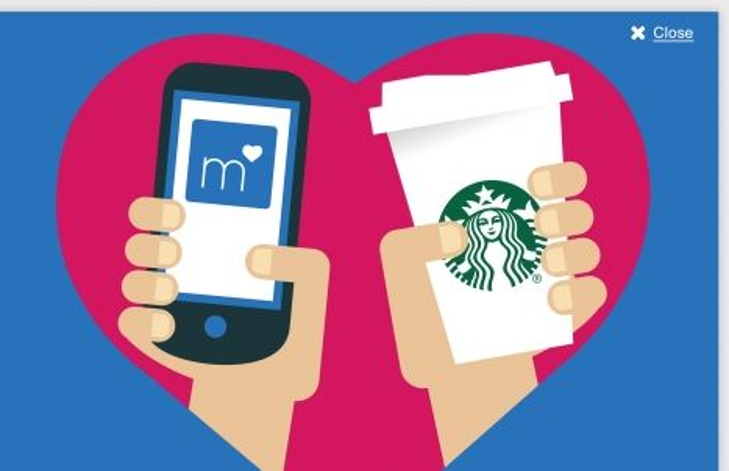 In 2016 and Virgin Trains promoted the revamp of the trains on its East Coast route with the help of popular TV host, Fred Sirieix (well known for hosting Channel 4's "First Dates").
As the face of love, he's a big advocate for finding your true soul mate. As the face of this campaign, Fred shares his passion for both first-class service and his belief in love. The campaign saw Virgin Trains offering singletons a high-speed, matchmaking train journey from London King's Cross to York on 14th February.
In 2018, The Body Shop launched its #SendingAKiss competition, asking their Instagram followers to send in photos of themselves blowing a kiss to a friend. The winner received a gift pack of the brand's newly released fruit-scented lip balms for them and their "Galentines."
The beauty in this campaign was its timing – celebrating the launch of The Body Shop's new "Lip Juicers". It drove additional brand awareness of the new products, generated a wider audience reach for the new products and competition – through tagging friends and sharing the competition – and encouraged loyal customers to add the new product to their shopping basket and pose with the new product.
Want to WIN some fruity goodies for you and your Galentine's? 💕All you need to do is: 1. Follow @thebodyshop on Instagram2. Share a selfie on Instagram of you blowing a kiss to your friend3. Tell us your country of residence by including #USA in the caption, and include #SendingAKissFull list of prize below. You could win two sets of Japanese Cherry Blossom EDT 💮 Fragrances, 10 Matte Lip Liquids 👄, 5 Lip Juicers 🍓 and 7 Matte Lipsticks 💄. Prize may vary. 1 winner will be selected. This competition is open to all residents of the US.Entries must be posted by Wednesday 14th February 2018 1pm EST.For the Instagram #SENDINGAKISS competition T&C's: http://bit.ly/2DSacHN. All entrants must be aged 18 or over. 💗 💋

Posted by The Body Shop on Wednesday, 31 January 2018
Adding a touch of magic this year, we're excited to hear the Wookey Witch is cooking up a romantic recipe for Valentine's Day this year. Focusing on love, blessings and commitment, the famous Witch of Wookey will perform her first ever hand blessing ritual in the stunning underground caves.
Lit by atmospheric candlelight and surrounded by millions of years of untouched history, the underground caves are the perfect setting for this romantic gesture. Bringing a touch of magic to the celebration, the Wookey Witch will warm her "heart of stone" for the day and perform individual blessing for couples visiting the tourist attraction on Friday 14th, free of charge.

And let's be honest, not everyone loves V Day. Last year online retailer Missguided ran a competition on social with the hashtag #MyWorstDateWas. The competition was to win a £100 voucher for their site (YAY) for their favourite story. Whichever way you look at it, a shopping spree can definitely make you feel better!
Here's to spreading the love this Valentine's Day – whether that's with your partner, best friends, your furry companions or your favourite takeaway!
If you would like to find out more about us at ADPR and our messaging, see ADPR's guide to maximising your lifestyle brand's PR campaign
Your business survives because it's providing a product or service that others either need or want, but how will anyone know how good your company is if you neglect to tell them about it? Don't allow your competition to get ahead of the game and sign up to our Optimised Product Launch service. Whatever it is you're planning to launch, you can leave it in our expert hands to reach the audience you want, accompanied with awesome content that will drive sales and position your company in the best possible way.
Let's look at how good communication and basic planning will solve your problem and help you to convert your creation into actual sales. It's a crowded marketplace and there will always be a lot of noise to cut through to get your product noticed, but it is far from impossible to achieve. Download our Checklist for a Successful Product Launch to help you understand everything you need to know about launching your new product!