We know this year has been tough for everyone, personally and professionally. Though we are not qualified to help with personal struggles (aside from recommending a daily bowl of ice cream…) we certainly can help your business to thrive once again with some tips on how to encourage smarter working post lock down.
Sophie recently attended a virtual workshop hosted by customer-journey experts, Journey4, to look at how businesses can leverage innovative new ways of working once the lockdown restrictions are lifted. The session covered the learnings businesses can take from this period that can be used to help transform future business models and harness some of the benefits of increased productivity, improved communication and enhanced employee well-being as a result of working from home.
Journey4 have conducted a poll amongst businesses from around the UK on the key smarter working themes that have come out of the pandemic. The themes identified were: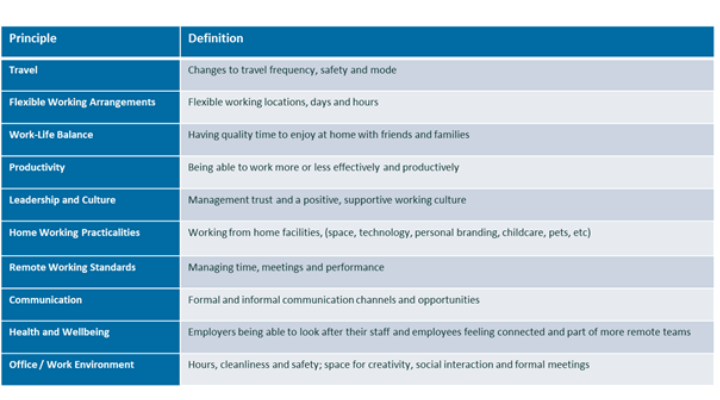 From the poll, the four highest ranking themes concerning businesses were Leadership & Culture, Work Life Balance, Productivity and Communication.
In this blog, we are going to focus on the key issues affecting Leadership & Culture within organisations and how businesses can make the most of the "new normal".
1) Trust
Leadership teams must demonstrate that they trust employees to continue to work productively at home, after the lockdown. Leaders must also lead by example and not go into the office as this then causes staff to feel as if they ought to as well (current Government guidance states that you should continue to work from home if you are able to).
A key issue for businesses to consider going forward is how they can create an effective culture remotely and proactively build virtual relationships with individuals and teams.
On a practical note, to help build trust, it's important to set key performance measures for home working – setting expectations and weekly priorities for your teams to ensure everyone knows what success looks like.
2) Communication
It's vital that leaders change their management style as what worked pre-Covid-19 isn't likely to be effective as we enter this new world. One example is that communication has had to improve during lockdown and we need to ensure it continues.
Despite this, there's no denying that communication can be more challenging when working with remote or disparate teams so messaging needs to be clear and consistent for all employees.  Trust can be built by ensuring communication is honest and personal, with regular company updates from the CEO/MD to ensure the whole team feel they are part of the journey.
From a practical standpoint, by scheduling regular check ins (both formal and informal) can help keep teams engaged, as can hosting more social events with all staff, including those currently on furlough. Staff have liked that businesses have used a variety of different communications channels and that key messages have been repeated several times as this ensures teams feel "in the loop" on key decisions.
3) Vision
It was universally agreed that leaders will need to reset their company's vision for the future as the world is going to look very different post-pandemic.
Businesses need to provide clear direction for their teams and instil confidence in the workforce.
Staff want leaders to spend more time on sharing the new strategic direction by providing clear and simple messages on what the plans for the business are.
4) Empowerment
All businesses felt that the strong culture of empowerment which has been built over lockdown must be developed further.
Leaders should build confidence in their employees and show them that they are valued and working effectively at home. This can be done by formally assessing the organisational culture (in a cultural audit), by taking an interest in what your staff are doing and setting clear expectations.
5) Empathy
Businesses need to spend time getting to understand their team's individual situations, as not everyone has the required facilities at home already for example. Feedback also showed that the use of language is open to interpretation as terms such as 'by close of play' are now meaningless with people working flexibly to adjust for childcare etc and the use of the term 'remote worker' was unhelpful as it made people feel 'less than' their in-office counterparts.
Leaders could be more empathetic by being vulnerable themselves, sharing their personal experiences and investing the time to speak with people individually to fully understand their personal circumstance.
6) The New Normal
Leaders need to embrace the 'new norm' and communicate clearly and effectively with all teams, clarifying the business's renewed purpose post Covid-19.
Those businesses polled felt that the traditional working day needed to be re-thought, with businesses needing to be more relaxed about working hours and more flexible.
The polled businesses' collective thoughts have been summarised in the table below with what people felt businesses should stop doing, start doing and continue doing to ensure smarter working post lockdown.
What are some of the smarter working practices you have put in place for your business post lock down? Let us know on hello@adpr.co.uk!
One of key themes raised was communication and guess what! We are experts in that too. Check out our Confident Communication Planning service and let us help you to be the best you can be!
If you are still unsure about how to put some of these other initiatives into place, you are just one click away from some help and support to giving yourself long term peace of mind with our Crisis Management Success service. Don't fall into the trap of thinking a crisis won't happen to your business. We are here to help and we promise it will be worth it.
Further reading
You may be interested in reading this blog by our MD, Kate, on purpose in a post-pandemic world.
Finally, take a deeper look into what it means to be trusting, and how valuable it is to running a successful business today in this blog.
The Department of Commerce states that 70% of smaller companies go out of business within just one year of experiencing a crisis – we think this is enough of a reason to be prepared! Our Crisis PR 101 guide will give you the tools you need to develop a crisis plan that will protect your business when a crisis strikes. As well as the guide you'll get top tips from experts to give you more support in building a futureproof plan for your business.