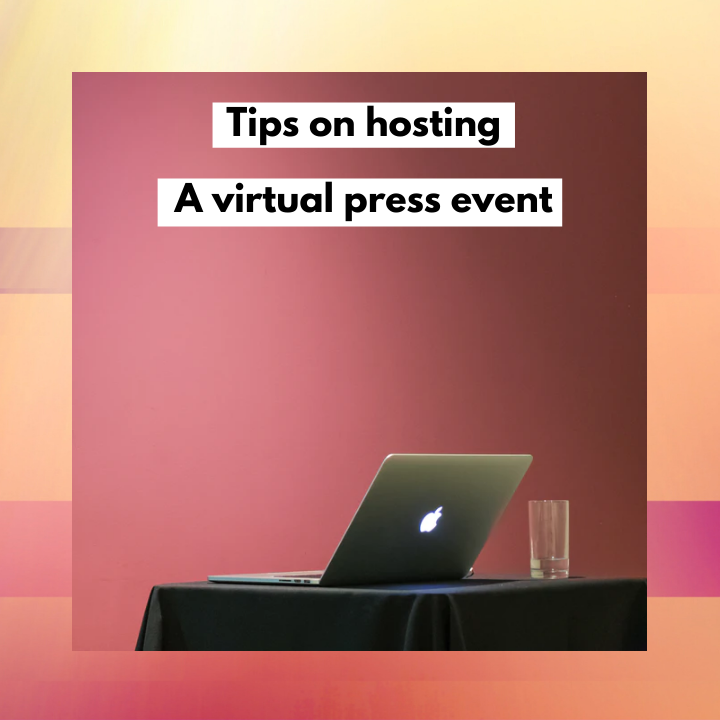 The rise of virtual press events does not come as a surprise, particularly as we cannot meet in person right now, and companies must think of new and creative ways to launch new products and present their forthcoming seasonal collections.
In the consumer world, July is notoriously when we celebrate Christmas (stay with me!) and Christmas plans, gift guides and marketing campaigns are finalised and launched to the market. Last year, the Helly Hansen team were setting up in a beautiful ice bar in London to introduce its Winter 2019 collection (see more here), but this year looks quite different.
Instead we turn to technology and connecting online. So, how can you host a super sleek virtual press event and what should you consider in advance?
Do your research
It's important to note – right from the start – that just because the format of a physical event works for your audience, it does not mean it will work for your virtual event. Do your research and speak to the people you want to attend. Ask them what they what to see, when, how and is there anything they need to consider in advance? Lunchtimes might be good for some, or first thing in the morning better for others. Talk to your intended audience, listen to their feedback and develop your plan around this invaluable input. Then you can think about the tech, the support and resources you need to make it happen!
Set up
Consider your audience and what you want to present. Do you want slides to share information, will there be a camera set up on one key speaker, is there an order of different products to talk through, or is it a mix of all of this? You need to keep your audience engaged and excited about the event, so consider mixing it up, but don't try and cram too much into one short session – you don't want to overload them. If you're showing clothes, try and use models (where possible) so people can see them in action. Similarly, if you're talking through a new gadget, have it available in your hand and brief your videographer to do close ups when you're talking about a specific feature. Keep it lively and keep your audience engaged.
Also think about your personal setting if you're being filmed. Review your lighting – you don't want it to be too dark or too bright – your sound (and check this in advance!), and if you're moving between cameras or locations (even in the same room), how does this affect the filming from your audiences' perspective?
Do a trial run
Once you're happy you have everything set up, practice! Run through your script/the key points you want to present and see how it flows. Ensure there's no awkward pauses, everyone involved knows what is happening and when – for example, if you're switching to a video, or want to introduce a new person to the event – so that it gives a professional and polished feel. This is also the perfect opportunity to test your equipment (and rectify any glitches) and get valuable feedback from people you trust.
Introductions
Once you're live, it's important to welcome your visitors – whether or not you can see them. Make sure you say hello, remind them what they are attending and give them time to all get online. Expect people to be running slightly late and give them time to join and get settled. However, for those who are punctual and ready, don't keep them waiting too long and feel free to get started within a few minutes of your publicised start time. You can also recap or say hi if you get a few extra attendees as you get going.
Encourage questions
Decide whether you want people to hold onto their questions until the end or take them midway through your event. It can be nice to encourage questions and two-way conversation throughout your event (if this is appropriate). You want your attending press to proactively engage with your event, and this is a great way of doing so. Depending on the hosting software you are using, some have the option for people to submit questions throughout, so it's important to review these at the appropriate times and answer them live on air. Some questions may require more detailed responses or additional research, but this provides a great reason to follow up!
It is also advisable to remind people to ask questions or note anything they want more details on throughout your event, so they can keep this front of mind as the event continues.
Follow up
Once the event is complete, follow up with your attendees (media, partners, suppliers) pretty swiftly and thank them for their time. You'll be fresh in their mind and they'll be thinking about what you told them/how this affects them, so strike while the iron is hot and maintain their enthusiasm. Don't be afraid to ask for feedback, if there's any further questions and if there's anything else you can do to help. Share the recording (if possible) from the event, as this will provide a great resource for them to revisit when they are working on something relevant to your event – for example, a gear guides or photoshoots later in the year.
We're living in a new digital age and it's important to stay connected with your audiences. Virtual events are great for launching new collections or introducing new ranges to your media contacts that you would normally see in-person. In fact we have found that in many cases, online virtual events are attracting more media than in-person ones! It's very convenient for busy journalists and requires much less effort to attend an online briefing than it does an in-person one!
For some more tips about setting up your video and shining on camera, check out this recent blog.
For more information about how we can support your with your virtual press event or new product launches, please contact us via: hello@adpr.co.uk.