Social media is arguably the most cost-effective way to tell your target audience how brilliant your company is. There are various social media channels available to your small business, all offering different tools and in-platform resources that, as a business owner, you can be utilising to make the most of your social media business channels. We want to give you our run down of three of the most popular social media platforms, LinkedIn, Twitter, and Facebook, along with our top tips of how to maximise them to reach your target audience! For even more, check out our most recent podcast episode, which is all about maximising Facebook advertising.
LinkedIn can be used as an integral part of many successful marketing strategies for a small business, due to how effective it can be in expanding your professional networks, which are known as 'connections'. When you create a business page on LinkedIn, you gain access to useful features such as analytics, connections and brand-building, just to name a few! Using LinkedIn allows you to build credibility, create a meaningful network, and showcase insider expertise from experts in your industry by utilising content such as articles and thought leadership posts, which will be sure to attract other professionals.
More than 30 million companies use LinkedIn for business, so the channel is somewhat crowded! This is not just because it is the most renowned social network for recruiting and hiring top talent, with more than 740 million members, but also more and more businesses are using LinkedIn to network, connect, and sell.
To reach your target audience through LinkedIn, it is vital to have a well structured and detailed company page, with all your business' key information, services, and products. Adding to that, optimising your personal profile is another important way to interact, adding a friendly face to your brand and building purposeful connections with the ideal people you want to communicate with!
Twitter connects you and your business with what is happening in the world every day. Twitter has a large user base, which could include your potential customers, and it can allow you to reach a wider audience. Using hashtags on Twitter can help you reach an audience interested in a particular topic or in a particular location, such as aiming for your tweet to be shown on the 'trending' page, by creating a tweet in a reactive way to a trending topic or event. Twitter is used for short snippets of digestible news. Utilise this fast-paced platform by creating compelling bite sized pieces of news. Twitter is the best platform to learn the latest, real-time trends and is a gold mine for social listening for understanding more about what people think about your business, target audience and industry.
Twitter is perfect for having fun engagement with other brands, as well as with your customers, we love the below example from Weetabix…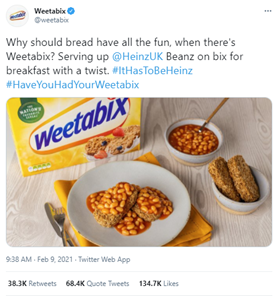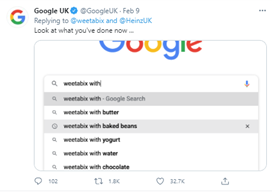 Business Facebook pages are a great way to establish an online presence for your company, provided your customers are using that social network. You can optimise free and paid advertising tools to help reach potential customers through your business page, as well as tapping into your community and target audience through creating engaging Facebook content using in-platform tools such as Facebook Live, member pages, and its e-commerce capability. Some useful tools that you can optimise on a business page on Facebook include:
Keeping your customers updated with engaging content: stories, posts, and events.
Create or join a group to let more people know about, or engage with, your business page.
Offer automated customer service through Messenger.
Reach more people with targeted advertising, page promotions or boosted posts. Learn more about Facebook advertising on our latest podcast. You can listen here.
Encourage transactions (for example, schedule appointments, enquiries, and take payments) with call-to-action buttons.
List products and services on Marketplace.
Post about open jobs.
We know that many small businesses choose to manage their own social media channels, but we also know that when life gets busy it is all too easy to neglect them. If this sounds familiar, you have come to the right place! When social media channels are not managed properly and do not have any strategy behind them they will not be doing anything much to help your business and could even be doing more harm than good. If you are struggling with time, then our FREE social media content planner will be able to help you! Download it here for FREE. We are experts at creating strategies that cut through the noise and we are awesome at content creation too. But best of all, we know the secret to getting your audience talking, sharing, and engaging with you. Save yourself precious energy by signing up to our Social Media Engagement Success service. We will do the hard work of managing your channels leaving you free to sit back and reap the rewards.