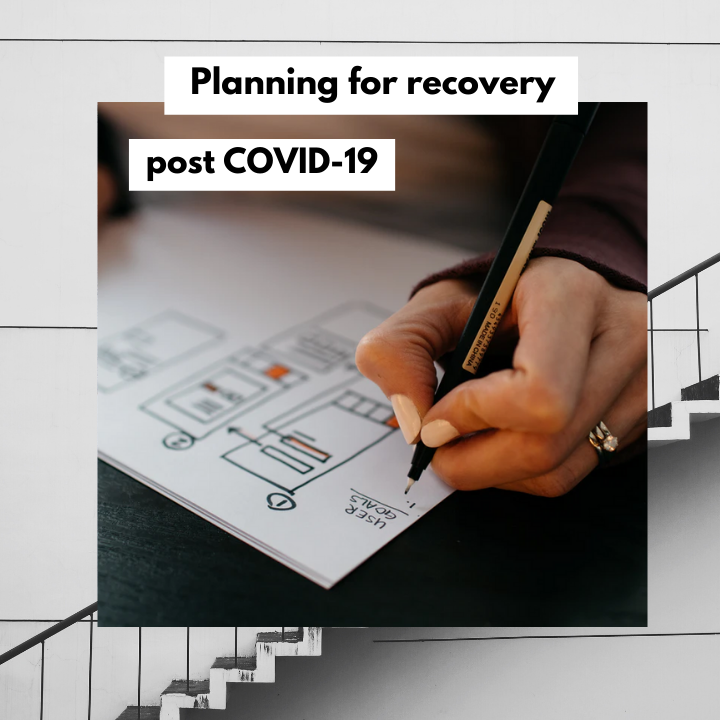 All of us have been affected in one way or another by COVID-19. Many businesses have been hit hard, and we have all had to adapt to navigate in unknown territory — figuring out what is best for employees and families, whilst safeguarding the business. Here are our tips on how to start planning for recovery in your business in a post COVID-19 world, when things start to return to (almost) normal.
Quick wins
We know its probably been a case of helping your business survive this turbulent period, with all previous plans for growth turning to just being able to continue operating in some capacity. With a focus on quick wins, what can you pivot quickly, with the resources you have to hand, to keep cash coming in? Maybe you already sold online and could expand your product offering, could you automise your sales process reducing the need to have close contact with customers? Could you replace your face to face meetings and events with digital versions? Spend a bit of time now thinking about what you can do easily and simply (not to mention cheaply!) to keep cash coming in.
Strengthen your assets
Now is the time to work hard to keep strong relationships with your existing clients and customers through proactive communication. Offering kindness and showing support and understanding during these challenging times will build trust between you and your clients, which they will remember long after this crisis is over. Think about what changes you can put in place now that will help your customers and position you in the right way for the long haul.
Strengthening relationships with your own team is critical too. The health and wellbeing of your team should be your number one priority. If you treat your employees like they make a difference, then they will! Your staff are going to be concerned about whether their jobs are safe and if there isn't any forthcoming information coming from you, rumours may abound. Keep gossip to a minimum with regular, open and honest communications. No doubt you will already have to have made some tough decisions and there could be more ahead. When you've got bad news to communicate, get to the point quickly and clearly and explain what it means to them.
Boost your online presence
Right now your business may be adjusting to lockdown by offering online services. This opens up a whole new world of opportunity with plenty of chances for getting, and keeping, new customers. Make the most of this whilst you can, as online interaction is more prominent now than ever. It doesn't matter if you've never even had so much as a Facebook page before, now is the ideal time to progress your digital activity to broaden your audience for the future. Spend some time researching social marketing, content marketing, SEO and influencer-led campaigns and see how they could boost your business in the "new normal".
Plan for the future
Until recently, you have probably been heads down focusing on crisis management and putting your business continuity plans into action. But if you're finding yourself with a little more time on your hands than usual, now would be a great time to plan for the future.
Are there any lessons from this disruption that would be helpful to take forwards? For example, have you realised your staff can effectively work from home when maybe it as something you'd never thought possible? Maybe you don't need to travel all over the country attending meetings when a Zoom chat will work just as well. These are all significant changes that can reduce your overheads and be a positive step forward for the business.
Aside from what's worked for you during Covid 19, marketing is going to be key in your recovery. Now is the ideal time to start planning!
It may be that you dust off your original marketing plan and with a few tweaks, its good to go. Or you might find that you need to reassess everything and start over. Whichever camp you're sitting in, today is the day to start getting your campaigns in order!
Do the groundwork
Think about your customers, and what their motivations are. How have their lives been affected by Covid 19 and what does that mean for your product or service? If you have any existing customer research, revisit it and correlate it to any more current data you may have to paint a detailed picture about how you can better serve them.
Check out your competitors. How did they handle Covid 19? Did they come across well or did they misjudge the situation? What is your industry saying about them?  Could you take any useful learnings from their experience?
Undertake a detailed analysis of all your previous marketing activity. What was really delivering for you and what was a waste of budget? With a renewed focus on efficiency, honing your efforts on what drives a return will be key to winning post Covid 19.
Using all of this research, insight and analysis can help inform what marketing activity you should focus on to lead your business through the recovery phase.
With a robust marketing plan in hand, when the time comes and things revert back to (almost) normal, you'll feel confident you are able to make the most of the inevitable bounce-back and you'll be grateful for spending a couple of weeks planning a highly impactful strategy and execution.
If you'd like any help with shaping your post Covid 19 marketing communications activity, we are offering a free 15-minute no-obligation discussion with our team of communications experts. To book your free discussion or to find out more, please email hello@adpr.co.uk
Your business survives because it's providing a product or service that others either need or want, but how will anyone know how good your company is if you neglect to tell them about it? Don't allow your competition to get ahead of the game and sign up to our Optimised Product Launch service. Whatever it is you're planning to launch, you can leave it in our expert hands to reach the audience you want, accompanied with awesome content that will drive sales and position your company in the best possible way.
Don't fall into the trap of thinking a crisis won't happen to your business. You are just one click away from giving yourself long term peace of mind with our Crisis Management Success service. We promise it will be worth it!