For any brand, it's always great to get impactful coverage in your target media to showcase what you're doing. Print, online and social coverage are all excellent in their own ways and each requires an individual approach. Broadcast is often the toughest media nut to crack but it's worth the hard work because its audience figures can dwarf print media. If you are interested in finding out more about how to secure broadcast coverage, listen to Episode 4 from Season 3 of our podcast, Revitalise & Grow. It features special guest, Emma Britton – a former BBC broadcast journalist – who spills the beans on all things broadcast!|
To celebrate Clarks Village's – the UK's first ever outlet shopping centre – 25th birthday, we wanted to secure broadcast coverage to showcase this important milestone for Somerset's favourite retail shopping village!
We secured:
Live, local BBC radio coverage on the breakfast show with three Clarks Village staff interviewed
BBC TV filmed coverage of shoppers enjoying the Clarks Village 25 year anniversary weekend
BBC TV filmed interviews with the Centre Manager, a Store Manager and guests shopping – shown on both morning and evening prime-time slots, plus news-in-brief, twice
ITV local coverage of the anniversary weekend celebrations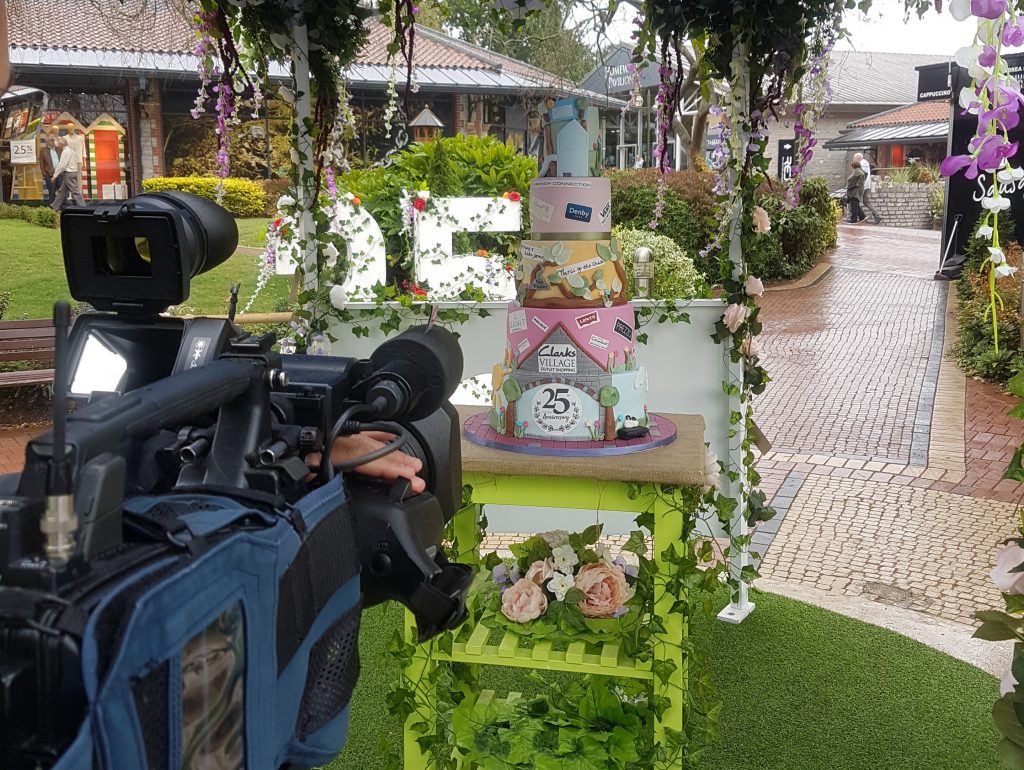 So how did we do it?
Well, it all comes down to two things really – having an awesome story to tell (check) and having really strong, meaningful relationships with relevant media (check, check). You can read our case study about the campaign here.
Having an awesome story
This involves working closely with your marketing and PR team to ensure that your story is genuinely newsworthy. Fortunately for us, working with the UK's first ever outlet shopping centre is pretty unique, and celebrating its biggest piece of news to date – 25 years – is even better! So the next step is about identifying key brand messages, important milestones in the brand's history and interesting and newsworthy ways to mark this fantastic occasion.
We'd been working on the anniversary plans for many months, so we knew we had an impressive, multi-faceted event that would work well on camera and a variety of interesting story angles up our sleeve to pitch to key contacts.
As PR professionals, it's our job to ensure that all of the above is outlined clearly and agreed between us and the client in advance, so we can work our magic with our black book of contacts…
Media relationships
The key for any successful communications agency is having unbeatable media contacts and building – and maintaining – strong relationships with these media. This way, when you have a killer story, media will be open to hearing about it and will want to work with you to deliver the best possible coverage.
At ADPR, we are renowned for our key relationships with the media. In the case of the Clarks Village 25 year story, we ensured we had the right contacts to speak to at each of the broadcast titles and spent time with the journalists discussing their bespoke requirements. We covered:
What they needed – interviewees, access to the site for filming, shots of specific activities, etc
What was of interest – activities during the anniversary weekend, topics to discuss, history of the brand, etc
How we could support the filming – on-site management, working out logistics, etc
Timings – when they would be on-site, how long they needed with specific people, when the piece(s) would be broadcast
Managing the media and the client on-site, we also ensured we spent time talking through the opportunities, covering key messages, agreeing what the client was comfortable discussing, preparing how to handle any difficult questions and knowing how to sound confident (even if they didn't feel like it). This is incredibly important for any media conversation, as we want our clients to be showcased in the best possible light, for their messages to be clear and concise, and we want the coverage to be published!
Planning is key with any event, however when you introduce broadcast media to the mix, it adds a whole new layer of pressure and complications. So it's important that the correct planning, timing, media training and on-site management is in place, especially when you're working in a public place. Being as friendly, helpful and flexible as possible goes a long way too!
For more thoughts and advice on broadcast PR, listen to Episode 4 from Season 3 of our podcast, Revitalise & Grow. It features special guest, Emma Britton – a former BBC broadcast journalist – who spills the beans on all things broadcast!